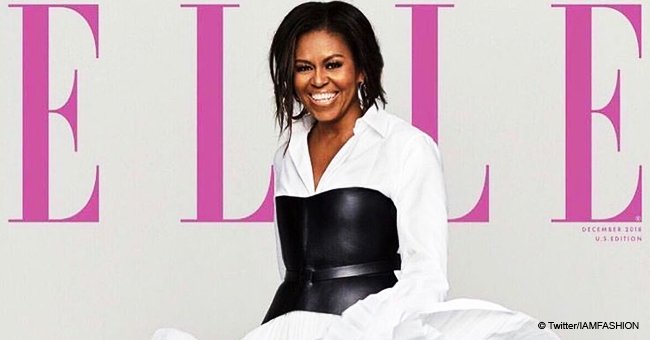 Michelle Obama wows in $2.4K leather corset & black high heels on the cover of Elle Magazine
Michelle Obama knows how to remain relevant even though she's no longer FLOTUS. The mother of two looks stunning in the cover of Elle magazine, proving that she's a fashion icon as she reflects about her life after the White House in an in-depth interview with Oprah Winfrey.
Becoming the first black "first lady" of the United States wasn't an easy journey for Michelle Obama. And after eight years in the White House, trying her hardest to make a change in the world alongside her husband, she was able to reflect on her life like never before in an up-close and personal book titled "Becoming."
THE COVER
As part of her promotional run for the book, Obama posed for the cover of ELLE magazine's December issues, donning several glamorous outfits that prove she can rock whatever she wears with poise and elegance.
On the cover, Michelle wore an edgy $2,400 black corset over a $1,350 white collared shirt and a 4,900 peasant skirt, all from Dior's resort '19 collection. She completed the lock with a pair of lace-trimmed black boots and an edgy hairstyle. Photographed by Miller Mobley, the 54-year-old ruffled her skirt as she smiled for the camera with a charming aura.
But while the pic on the cover of the magazine shows a bubbly, sophisticated woman happy with the life she leads, in her interview with Oprah Winfrey, Obama opened up about the struggles that she faced to become who she is today. Talking, among other things, about going through marriage counseling and having to remove her "wife hat" to support Barack in his run for president.
THE TOAST STORY
Being the first lady comes with lots of benefits, like having personnel ready to perform every single little task that Obama could need. But after eight years in the White House, Michelle realized it's the simple things in life she missed while assuming the role of First Lady.
For example, the task of making toast. She recounted for Oprah one of the first nights alone she had in her new "normal" $8.1 million house in Washington, D.C:
"I go downstairs and open the cabinet in my own kitchen -- which you don't do in the White House because there's always somebody there going, 'Let me get that. What do you want? What do you need?' -- and I made myself toast. Cheese toast,"
"Then I took my toast, and I walked out into my backyard. I sat on the stoop, and there were dogs barking in the distance, and I realized Bo and Sunny had really never heard neighbor dogs. They're like, What's that? And I'm like, 'Yep, we're in the real world now, fellas.'"
EVERYTHING GOES FAST
Michelle also realized that there was no time for pondering and internalizing in the White House. The environment required everyone to be on alert, moving from one side of the world to the other and never fully grasping the magnificence of each passing moment.
"It's that quiet moment of me settling into this new life. Having time to think about what had just happened over the last eight years. Because what I came to realize is that there was absolutely no time to reflect in the White House," she said.
Michelle recalled she and Barack were always so busy, that she would forget her visits to some countries. She recalled a debate she had with her chief of staff, as she expressed her desire to visit Prague one day.
"And Melissa was like, 'You were there.' I was like, 'No, I wasn't. Wasn't in Prague, never been to Prague,'" she replied. It wasn't until she saw pictures from her visit to the European country that the memories of the trip came back.
"We moved at such a breakneck pace from the moment we walked in those doors until the moment we left. It was day in and day out because we, Barack and I, really felt like we had an obligation to get a lot done."
WHEN POLITICS TAKE A TOLL ON MARRIAGE
It was precisely that obligation that drove Barack Obama to give his all while running for president. Sometimes having to sacrifice precious time with his wife and daughters, Malia and Sasha, who were still kids back then.
But the troubles didn't start when Obama started his political career. Michelle admitted that they'd always have their differences because of their ways of managing life and seeing the world.
She was always a meticulous planner, a "box checker." Obama planned her entire life with a picture in her mind: graduating, having a good job, getting married and having kids. When she met Barack, the two last boxes in her list were more than ready to get ticked.
But the former president was her total opposite. He was "swerving all over the place."
Eventually, she learned to loosen up from. "Barack Obama taught me how to swerve. But his swerving sort of, you know, I'm flailing in the wind," she revealed.
But like any marriage, Michelle confessed hers required a lot of work which is why they resorted to counseling.
"There was work we had to do as a couple. Counseling we had to do to work through this stuff."
Like many other people, Michelle got into counseling thinking that the therapist would only help her create a case against her husband, but what she discovered was that she had to explore her own happiness with Barack's support.
She told Oprah that counseling allowed her to accept her "vulnerability" and became "an important part of my journey of becoming."
"Understanding how to become us," she adds.
REMOVING THE "WIFE HAT" FOR THE GREATER GOOD
Michelle also spoke about the turning point when she decided to greenlight her husband's decision of running for president, even though she knew the risks and challenges that would come for her family.
"Barack and I, really felt like we had an obligation to get a lot done."
But soon she realized that the country needed the "gifts" that Barack has. Decency, empathy, and high intellectual ability. He had worked in the community and felt that is was his responsibility to try and make a change.
"How do you say no to that? So I had to take off my wife hat and put on my citizen hat," she stated.
OTHER CONTROVERSIES SURROUNDING HER BOOK
Michelle spoke about other issues she brought up in her book including her experience of going through a miscarriage and conceiving her two daughters through IVF.
One of the more controversial topics she explored was her despise for Donald Trump, which became even more controversial lately when the US president responded to it.
In her book, Michelle says she can't forgive Trump for putting her family's safety at risk. The outspoken president clapped back recently and said he too could never forgive Barack for depleting US military funds.
"What he did to our military – because she talked about safety – made this country very unsafe for you and you and you," he ranted.
ANOTHER COVER
Despite the constant critics she gets, both from Trump supporters and for her usual detractors, Michelle Obama keeps rising above all as she shares her story in every possible platform that allows her to do it.
Another magazine that chose her for their cover was Ebony, where Obama is featured as one of the 2018 Power 100 Entertainment & Arts honorees. On her spread, Obama discussed her book one more time but also took the chance to talk about the struggles of growing up as a black woman.
She didn't focus on the subject putting black women as victims, on the contrary, Michelle enhanced the power that relies in them, and that gets fueled by every obstacle placed in their way for their sex or skin color.
She said:
"If you're growing up Black and female, you can't help but really learn what's going on down on the ground. You're going to see a lot of the bottoms of people's shoes coming down on you, so you learn to be nimble and resourceful."
Michelle's book is undoubtedly stirring up talks, and it's not surprising.
The former first lady is constantly in the eye of the hurricane, but sadly, she can't please everyone with her words or actions. However, there's a reason why so many people have started to call Michelle their "forever FLOTUS," proving that her message has come across to many others and that people will never forget her.
That too is part of her journey to becoming Michelle Obama.
Please fill in your e-mail so we can share with you our top stories!