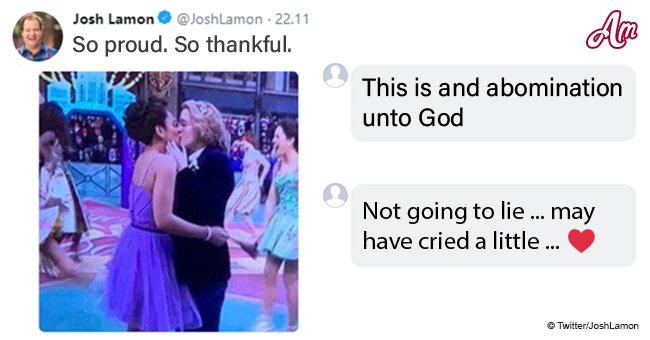 First gay kiss in Macy's Thanksgiving Day Parade history
The LGBTQ community celebrated as the annual Macy's Thanksgiving Parade featured its first same-sex kiss on live television.
While the parade typically includes Broadway musicals – like "My Fair Lady" - in the festivities, many people were taken aback by this year's unique scene from the musical "The Prom," according to Entertainment Tonight.
"The Prom" is about a girl named Emma, who wants to take her girlfriend, Alyssa, to their high school prom but is not allowed to do so. The musical mainly covers the timely subject of homophobia.
The cast of the show performed "Dance With You" for this year, which happens to be the 92nd one, and towards the end, Caitlin Kinnunen – playing Emma – and Isabell McCalla – playing Alyssa – shared a kiss.
Follow us on Twitter at AmoMama USA for more details and updates.
There were mixed reactions about the kiss. Some did not accept it, but many also celebrated it. So much talk was happening on social media that Macy's released a statement about it.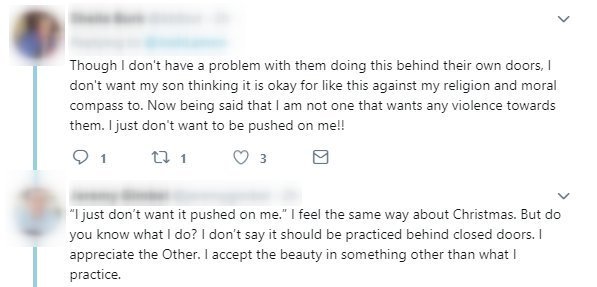 Source: Twitter/ Josh Lamon
The spokesperson
said
, "At Macy's, we are guided by our corporate values of Acceptance, Respect, Integrity and Giving Back."
"We hope that viewers found the 92nd Annual Parade entertaining with its traditional mix of signature balloons, fantastic floats, and performances from the nation's best marching bands and musical acts. We look forward to next year."

Source: Twitter/ Josh Lamon
Meanwhile, the cast and crew of "The Prom" were happy that their performance was well-received. Cast member Josh Lamon
tweeted
, "The first #LGBTQ kiss in the Parade's history. We here at @ThePromMusical have never been so proud," along with the hashtag #LoveIsLove.
As for producers Bill Damaschke, Dori Berinstein, and Jack Lane, they released a joint statement thanking Macy's for letting them be included in the festivities.

Source: Twitter/ Josh Lamon
They
said
, "Broadway's The Prom is grateful to Macy's and NBC for their acceptance and inclusivity of a community and a story that is about acceptance, tolerance, and love."
"These are some of the themes reflected in our musical comedy, and we are very proud to be the very first LGBTQ kiss on the Thanksgiving Day Parade."
The parade's executive producer, Susan Tercero, also weighed in and said they chose to feature musicals that "comes from what's really happening on Broadway."
In this modern times, it's fascinating to see that the world is slowly leaning towards acceptance. The LGBTQ community is starting to have a prominent voice now. Hopefully, it stays that way.
More and more shows have been tackling the subject and has featured same-sex relationships in their plots. There had been quite a few same-sex kisses in television, and She Knows compiled some of the best ones, including C.J. and Abby on "L.A. Law," Rhonda and Suzanna on "Relativity," and Jack and Doug on "Dawson's Creek."
Please fill in your e-mail so we can share with you our top stories!