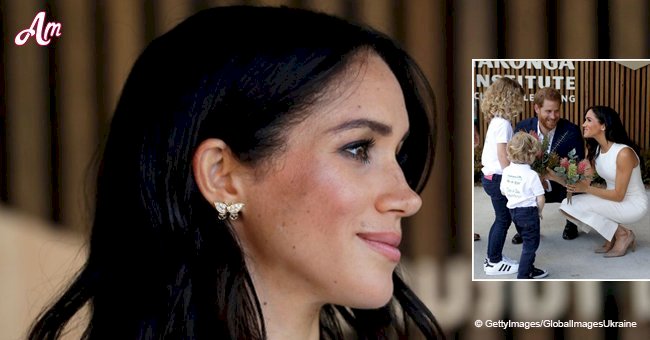 Here's why Meghan Markle often wears shoes that are too big for her

When Meghan became engaged to Prince Harry, she took a step into the spotlight and have been there ever since. But why does it seem like the shoes she steps in are too big?
During the couple's first recent royal tour her stunning fashion choices inspired many people worldwide. However, some eagle-eyed fans noticed the Duchess often appear in shoes that is a size or two too big for her.
Fashion expert, Harriet Davey has the answer to this seemingly odd and uncomfortable way of wearing shoes. According to Harriet, Meghan has a good reason for this as she elaborates:
"Celebs often go a size up, or even two, in the shoe department when they're at an event or on the red carpet, and it's for one reason we can all relate to — to avoid blisters."
Read more on our Twitter account @amomama_usa.
Harriet points out that celebrities wear heals for long periods of time, which can cause their feet to swell up, the friction then causes blisters as well all know, which turn into bunions in the long run.
Bigger shoes can fall off, especially heels, so to remedy a trick of the trade with another, Harriet reveals:
"A trick of the trade is to stuff the toe with paddings like tissue or cotton wool, and this can be taken out once they feel like they need a bit more room in their shoes."
There are also other ways of applying this trick, stylists that work with celebrities adds two more options to the list. One way is to put silicone pads inside the pumps. The shoe will fit snugly and won't restrict blood circulation, and even better yet, stops the feet from swelling.
The second tip is to use double-sided tape. It ensures shoes that are too big won't slip off and protect the vulnerable parts of the feet. Meghan Markle's sister in law, Kate Middleton, uses another trick to keep her shoes from slipping off.
The royal woman is required to wear tights whenever their legs show in an outfit. And since Kate usually boasts a pair of high heels, one is inclined to think that some slippage now and then would be unavoidable.
But Kate has a smart way of bypassing this issue. She wears sticky pads inside her shoe. It ensures the heels stay on her feet over the stockings and prevent slip-ups. Non-slip tights are available from John Lewis for £5 and come in shades of black, tan and nude.
Please fill in your e-mail so we can share with you our top stories!