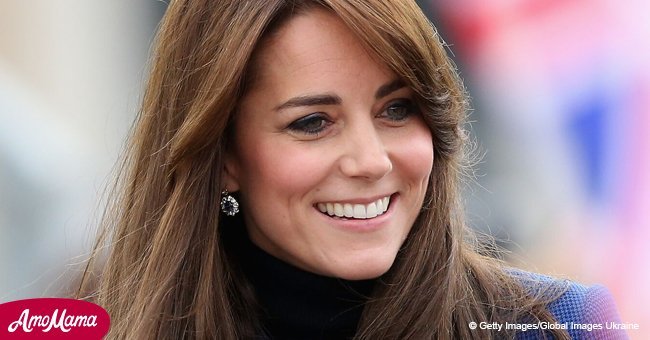 The Sun: Kate Middleton uses an unusual trick to keep her shoes from slipping off

Duchess of Cambridge Kate Middleton, along with sister-in-law Meghan Markle, is known as the epitome of poise and elegance in any circle. But the strict royal rule of tights might cause them to slip up now and then. Here's how they prevent that.
Middleton, 36, is required to wear tights at any and all occasions in which her legs are seen. Since she usually boasts a pair of high heels with her outfits, one might be inclined to think some slippage takes place now and then.
But according to the Sun, the expectant Duchess of Cambridge bypasses the petty mistake by wearing sticky pads inside her shoe.
The genius trick allows Middleton to wear tights with heels without a care in the world of slipping up. The non-slip tights are available from John Lewis for only £5 and come in shades of nude, tan and black.
Follow us on Twitter for more @amomama_usa.
Royal insider Victoria Arbiter pointed out how you won't find the royal women without some form of pantyhose on for public occasions. Except, of course, when Markle and Prince Harry made the announcement of their engagement.
Since then though, she has been wearing her nude stockings. Which makes sense because according to Arbiter:
"I would say that's really the only hard, steadfast rule in terms of what the queen requires."
Since Markle has had no slip-ups with her stockings as of yet, it may be that she has adopted the trick from Middleton as well.
Middleton also helped us figure out how to keep that Marilyn Manson moment from happening when the wind decides to suddenly pick up.
To avoid the resulting embarrassment of showing her undies, Middleton wears weighted fabrics that increase static so her usual lightweight dresses and skirts don't fly up.
Middleton, who has now been in the family for seven years, has learned a lot along the way when it comes to doing the royal job right. But before that, she worked regular jobs just like the rest of us.
In 2005, Middleton worked for her family's business, Party Pieces straight out of college.
She stayed there for a year until she became an accessories buyer with Jigsaw, a British retailer. She worked there part-time, displaying diplomatic princess qualities even then, before leaving in November 2007.
Please fill in your e-mail so we can share with you our top stories!