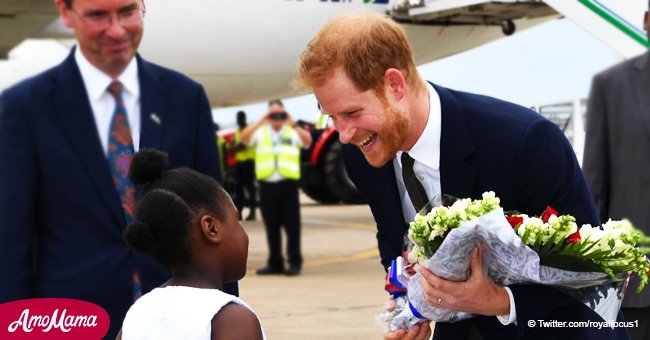 Prince Harry starts a 2-day Zambian tour without Meghan and gets flowers from a cute little girl
Prince Harry flew to Zambia for a two-day tour on his own amid fears of a Zika outbreak.
The Duke of Sussex arrived at Lusaka airport in Zambia on November 26, 2018, on a quick two-day visit to the southern African country, according to a post on Kensington Palace's Twitter account.
Zambian Royal fans were disappointed since Duchess Meghan of Sussex who was scheduled to accompany her husband, stayed home. In her absence, the Prince did the honors and was greeted with great enthusiasm by the crowd.
GREETED AT THE AIRPORT BY A TINY FAN
Prince Harry was greeted at the Lusaka airport by a young admirer who presented him with a bouquet of flowers. The lucky fan is 9-year-old Jane Chawanangwa who wore a proper "princess dress" in frothy white tulle to greet the Prince.
She was accompanied by a troop of traditional dancers in full regalia who performed an exciting welcoming dance for Prince Harry.
REPRESENTING THE QUEEN IN ZAMBIA
Prince Harry will be visiting a military barracks during his visit and attending an event of The Queen's Commonwealth Trust, which supports the social work of young people worldwide. He will also visit Circus Zambia, a social circus company that equips young people from vulnerable backgrounds with circus and life skills while providing educational and employment opportunities.
Zambian Royal fans were disappointed since Duchess Meghan of Sussex who was scheduled to accompany her husband, stayed home.
PRINCE HARRY'S COMMITMENT TO AFRICA
In December 2017, Prince Harry was appointed President of African Parks. African Parks is a conservation organization, founded in 2000, that manages 13 national parks and protected areas on behalf of governments and in collaboration with local communities across Africa. This comprises the largest area under conservation on the African continent.
Read more on Twitter Amomama USA.
ZIKA OUTBREAK PREVENTS THE PREGNANT DUCHESS' VISIT TO ZAMBIA
Prince Harry arrived in Zambia without his wife, much to the disappointment of her many fans. Duchess Meghan is pregnant, and an outbreak of the Zika virus was reported in Zambia's neighbors.
The Zika virus is spread by mosquito bites, and although it is not life threatening, it causes birth defects in unborn children. An infected pregnant woman passes the virus to her unborn baby who can develop microcephaly. The Zika virus also increases the risk of Guillain-Barre syndrome – a rare illness in which the immune system attacks the nerves, resulting in muscle weakness and paralysis.
"As far as those on the ground in Zambia were concerned both Meghan and Harry were going. But Meghan is exhausted and, understandably, expressed serious concerns about traveling to a country with even the smallest Zika threat."
The Duchess, who married Prince Harry of Windsor in a fairytale ceremony in May 2018, is expected to give birth to the Royal baby in the Spring of 2019.
Please fill in your e-mail so we can share with you our top stories!