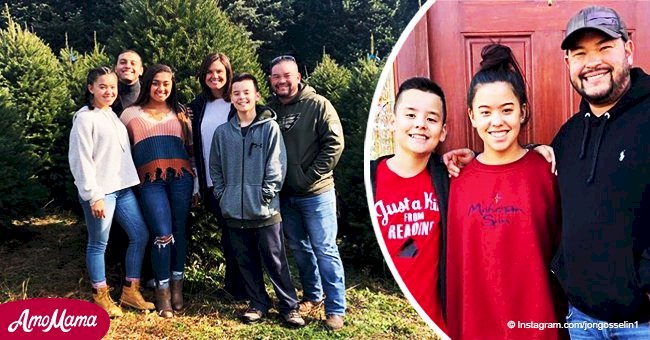 Jon Gosselin steps out with son Collin just weeks after filing for full custody of the boy

Jon Gosselin shared a heartwarming photo with son Collin on social media. It comes just weeks following Jon's custody filing for his son.
Former reality star Jon Gosselin took to Instagram to update fans of his holiday preparations. He and three friends stood in front of several fir trees as they prepared for the season.
In addition, Jon's son Collin and daughter Hannah, both 14, posed for the picture. The two are among eight children Jon shares with his ex-wife Kate Gosselin. The photo is found below.
Follow us on Twitter for more @amomama.
Jon, 41 captioned the photo:
"Found our tree. Let the holidays begin!!!!"
For over a year now, the former "Jon & Kate Plus 8" stars have been in a heated tug-of-war when it comes to their children. They have sextuplets Collin, Hannah, Leah, Alexis, Joel, and Aaden as well as 18-year-old twins Cara and Mady.
A year ago, all the children were living with their mother full time. Then Hannah joined her dad, leaving her siblings to attend another school.
It's unclear as to the extent she is living with her father, but she and Collin are often pictured on Jon's Instagram. In August Jon claimed that Hannah lives with him "permanently."
In 2016, it was found that Collin had been placed in a facility that catered to his special needs. At the time, Kate faced extensive backlash for her actions.
She responded:
"Collin has special needs. [There's] a fairly fluid diagnosis of what those needs are, but he needs to learn certain strategies to help him deal with things.This has been a struggle we've had for a very long time, and it's one I've dealt with on my own. I am confident he is in the best hands and receiving the best of what's being offered for his situation."
Jon also shared how the two had not seen each other in the last three years.
He explained:
"I don't know what's going on. The whole point is I'm left in the dark. There's no explanation. It's disheartening. I don't ever see Collin, ever."
After revealing that he didn't even know where his son was, Jon filed for full custody of the boy. In early November, he shared a picture of Collin at his home in Reading, Pennsylvania.
Jon described his son as "particular," saying that it "could be bothersome." However, he said, Collin is also "very loving" and was a "cuddly kid as a baby."
Jon treated Collin to a haircut from his longtime barber of Mike & Joe's Barber Salon. Collin sat in the chair smiling as Eric Rodriguez made a rock star sign behind him.
Jon captioned the shot:
"A HUGE thank you to Eric Rodriguez at Mike and Joe's Barbershop for welcoming my son Collin home with a fresh new cut. Eric has cut my hair for 20 plus years. #family #teammikeandjoes I appreciate everything Eric and Everyone at Mike and Joes has done for me and my family over the years. Thank you guys for being there!!!"
Please fill in your e-mail so we can share with you our top stories!