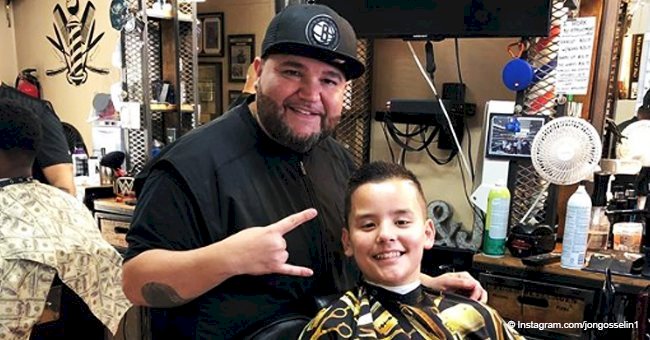 Jon Gosselin delighted followers with one more photo of the son he wants to get full custody of

Jon Gosselin appeared to have a very family-focused weekend. He took his son Collin to get a haircut and shared it with fans.
The 41-year-old father of eight posted a photo to Instagram. It featured a smiling Collin and Jon's barber of 20 years making a rock star sign.
According to Pop Culture, they were inside Mike & Joe's Barber Salon in Reading, Pennsylvania. The 14-year-old had just finished getting a fresh cut.
Follow us on Twitter for more @amomama.
Jon shares custody of Collin with his ex-wife Kate, but he is trying to get full custody. Collin is part of the sextuplets Jon and Kate share that made the two famous.
The others are Alexis, Aaden, Leah, and Joel. The former reality star couple also shares 18-year-old twins, Cara and Madelyn. Kate has full custody of the twins.
On Instagram, Gosselin captioned the photo:
"A HUGE thank you to Eric Rodriguez at Mike and Joe's Barbershop for welcoming my son Collin home with a fresh new cut. Eric has cut my hair for 20 plus years. #family #teammikeandjoes I appreciate everything Eric and Everyone at Mike and Joes has done for me and my family over the years. Thank you guys for being there!!!"
Just last week, Jon also shared a picture of he and his son along with daughter Hannah. The 14-year-old girl is reportedly living full time with her father.
A US Weekly source described Collin as "very intelligent" and "always questioning Kate and talking back." This is something Kate "doesn't like."
And Radar Online spoke to the barber who did Collin's hair. He said:
"When Collin was here, he got a little down when I asked him if he was excited to go back [to the facility]…He was bummed about going back. He just said to me, 'I can't wait for Thanksgiving break! And to come home,'"
He added:
"I asked him if he was excited about going to regular school and he said, yeah he's super excited about it. He just said he didn't like his other school that he was in before that facility, the one that Kate had him in."
Jon and Kate split in 2009, ten years after the show's first debut on television. Collin, who has special needs, was enrolled in a special needs program in 2016 without input from Jon.
In fact, Jon didn't know where his son was for a while. At the time he said:
"I don't know what's going on. The whole point is I'm left in the dark. There's no explanation. It's disheartening. I don't ever see Collin, ever. Not off the bus because he doesn't go to school. Not at the gate because he doesn't come down. Nothing. I am totally estranged from Collin because of Kate."
It waits to be seen if the courts will grant full custody of Collin to Jon. Meanwhile, we hope he continues to put a smile on his son's face.
Please fill in your e-mail so we can share with you our top stories!