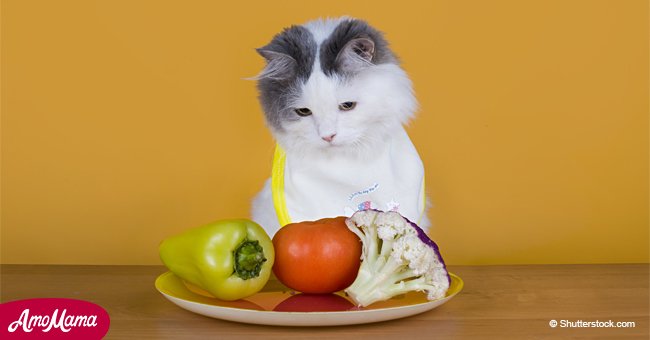 If you try to turn your cat vegan, you could face criminal charges
Plant-based cat food is a growing trend, but pet owners have been warned that feeding their cats with those products might be breaking an English law and could lead to get a criminal record.
According to Telegraph, one in six pet food suppliers offer vegan or vegetarian food for animals, and people who think this is a good idea because it meets their ethical standards might be fined or even sent to jail.
The warning was issued on November 22 by the RSPCA (Royal Society for the Prevention of Cruelty) over concerns that cats could become seriously ill if they are exclusively fed plant-based diets.
A RSPCA spokesman explained that while dogs are omnivores and can, in theory, survive on a vegetarian diet, cats depend on a meat-based diet. Read more on our Twitter account @amomama_usa
"Cats are strict carnivores and depend on some very specific nutrients that are found in meat including taurine, vitamin A and arachidonic acid so can become seriously ill if they are fed a vegetarian or vegan diet."
-RSPCA spokesman, Telegraph, November 23, 2018.
Considering this, the RSPCA is suggesting that depriving a cat of consuming meat could be breaking the Animal Welfare Act.
"Under the Animal Welfare Act, the law requires an owner to take reasonable steps to ensure that all the pet's needs are met," the spokesman said.
"This includes a healthy diet, as well as providing suitable living conditions, ability to behave normally, appropriate company and protection from pain, suffering, injury and disease," added the representative.
The RSPCA felt the urgent need to release this warning after non-meat alternatives were greatly publicized at the National Pet Show in Birmingham earlier in November.
Damian Eadie, director of plant-based pet food company disagrees with those who believe that cats cannot be healthy by eating plant-based products exclusively, claiming to have worked with nutritional experts during the 13 years he has been in business.
Eadie assured that even veterinarians who are against a vegetarian diet for cats are "suffering with an unshakable ideology."
A group of veterinarians in Australia have also recently warned that feeding a cat a strict vegan diet will end up killing the animal, and they used the case of a kitten that was nursed back to health with 20 CCs of meat, as example.
The animal health professionals working at the Lort Smith Animal Hospital in North Melbourne cared for a violently ill vegan kitten that almost died after his owners failed to give it proper food.
"You can't force your ideology on the cat. Carnivores will seek out meat and your cat is possibly more likely to go hunting and kill local native fauna if you deprive it of meat," Dr. Leanne Pinfold told the Herald Sun.
The divisive trend of turning carnivorous animals into vegetarians or vegans keep growing, and the debate online gets heated with people strongly adhering to what they believe.
When a Youtuber from Spain used her channel to defend her decision to put her pet fennec fox on a vegan diet, and was heavily criticized for the aspect of the animal, which looked worryingly thin.
The blogger and animal right activist, named Sonia Rae, admits that her pet, named Jumanji, suffers from many health issues, she doesn't attributes this to her choice of a diet for it.
"Sonia has refused to listen to experts who are all appalled at her treatment of Jumanji and have contacted her regarding the health of her fennec fox," wrote Facebook user Alice Natanya Moore earlier in 2018, in a post that has been shared more than 27.000 times.
Carrington was a guest on "This Morning" on August 31, and she was trying to prove that Storm was no longer hungry for meat after not having it for a few months.
As a experiment to determine whether the dog was given a choice or was forced to refrain from eating meat, two bowls, one filled with meat and the other with vegetables, were laid on the floor for Storm to choose, and the animal went right for the bowl of meat, leaving his owner with no arguments.
Please fill in your e-mail so we can share with you our top stories!