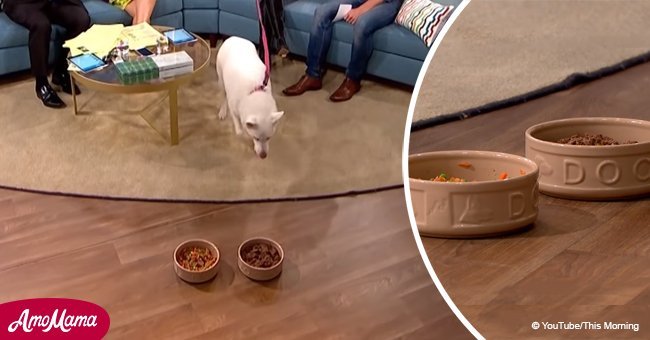 Woman insisted her dog was vegetarian, but was quickly proven wrong on Live TV

Lucy Carrington appeared on "This Morning" on August 31 confident that she would show the world her dog was a vegetarian by choice.
By the end of the show, Lucy was quite embarrassed and her dog, Storm was no longer hungry for meat. He had not eaten meat for about two to three months.
The video found below, shows hosts Eamonn Holmes and Ruth Langsford revealing how ironically Carrington is not a vegetarian herself.
Follow us on Twitter for more @amomama_usa.
She explained that over the summer, Storm started showing less and less interest in meat and so she weaned the dog off it, introducing a non-meat diet and giving her leftover veggies from meals.
Scott Miller, a veterinarian, was also on the show. He pointed out how dogs are indeed omnivores and claimed that the change of diet denied Storm his choice.
Host Holmes soon interceded, saying:
"You say dogs can't make choice but on this program, they can make choice."
At that point, two bowls, one filled with meat and the other with vegetables, were carried in. Much to the owner's dismay, Storm immediately went to the bowl of meat and started digging in.
He sniffed at the veggie bowl a couple times but not a bit was eaten from there. Carrington was left flustered, saying: "Oh you little... I didn't swear. In fairness, the weather has cooled down quite dramatically."
Carrington agreed that it might be time to return her dog to its meat-eating ways. But soon enough the internet came after her, accusing her of animal cruelty.
In August 2018, another dog named Cala was put in a position that was undoubtedly a case of abuse. Left on a chain so short she could not rest her head, Cala worked as a guard dog for a mechanic in San Jose.
Considerate neighbors noticed the worsening state of the dog and called local police as well as a local dog sanctuary, Territorio de Zagauates. Soon enough Cala was on her feet again and friendly with other dogs.
And a couple weeks ago in August, we saw the tearful reunion of Private First Class Kevin Coburn as he surprised his dog after nine months at Fort Bragg.
The four-year-old Golden Retriever cried joyously and was all over her owner when he appeared behind a curtain in what appeared to be a magic trick
Please fill in your e-mail so we can share with you our top stories!