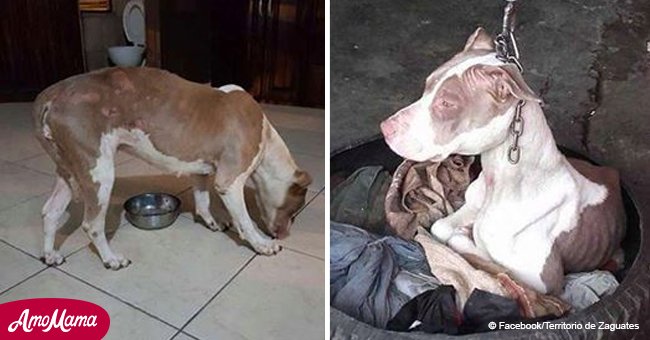 Dog rescued after being on a chain so short it couldn't even rest its head
Cala the dog had an iron chain tied around her neck and sat in an old tire filled with dirty rags. She was so weak that she could not stand, but when she sat, the chain prevented her from resting her head.
The Dodo shared the miserable situation that Cala was in when she was kept as a guard dog by a mechanic living near the San Jose area in Costa Rice.
The unknown mechanic hardly treated the dog with care, he barely fed her and ignored her sickness.
Read more on our Twitter account @amomama_usa.
Cala's health deteriorated as time passed and it was becoming impossible for her to keep her head up. She had issues with her breathing and would not have survived if people had not helped her on time.
The neighbors began to notice Cala's condition, and they knew that she was in trouble, so they contacted the local police and also got in touch with Territorio de Zagauates which was a local dog sanctuary that housed hundreds of dogs.
The police along with the team from Territorio de Zagauates rescued the dog from the mechanic's property and brought her to the vet where she was treated.
Lya Battle, the founder of Territorio de Zaguates, said that she felt sad and was frustrated.
"The picture I first saw of her showed a pitiful creature robbed of its dignity and ready to give up —a dog whose spirit had been broken and was just waiting for the end to come while living a never-ending nightmare."
Lya Battle, The Dodo, August 14, 2018.
The dog was then moved to Territorio de Zaguates, where she stayed and began to heal, not just physically but also emotionally.
In the beginning, Cala seemingly found it hard to adjust with the other dogs in the sanctuary, which led the team at the shelter to believe that either Cala had never met or interacted with other dogs, or she had been trained to attack dogs.
Gradually, her behavior towards the other dogs began to change, and she started to trust them and other people in the sanctuary.
The team at Territorio de Zaguates saw Cala go from a weak animal, too depressed that she had almost given up, to an energetic dog who was ready to make a stand.
Cala also included play and goofiness into her daily routine, like any other healthy dog. With each passing day, the team noticed a new face of her personality.
Just when it looked like Cala was improving, she went through another horrible experience. She was poisoned when some people snuck into the sanctuary and set out sausages baited with poison.
The incident resulted in the death of 16 dogs at the sanctuary, but Cala surprisingly survived. The dog was alive by the time volunteers got to her.
Battle said that it might have been due to her size which helped her tolerate the dose or that she had eaten a small piece of the sausage.
After Cala was poisoned, she suffered from neurological problems for a while, but she bounced back again, because she is a fighter, according to Battle.
She was later sent to live in a foster home, where she is currently being treated with love and affection.
Battle also shared that although Cala had become quite naughty and playful, her foster home loves to pamper her.
After experiencing years of torture and neglect, Cala is finally living the happy life she deserved.
For Battle, who has rescued countless dogs, since she founded the sanctuary, Cala's story holds a lot of importance and is very uplifting. She said Cala's rescue was proof that love always wins against hate.
Recently, a deaf puppy was rescued after he was trapped in a 50-ft long hole for more than 30 hours.
WHNT News 19 reported that a seven-week-old deaf puppy named Toffee was pulled from a hole in a yard on Lenlock Drive, Huntsville, Alabama. The puppy was trapped in the hole since June 28, 2018.
Toffee's foster family posted about the incident on Facebook, on a local page for lost pets, hoping to get help from the people in their locality.
The puppy's story became viral after it was posted and volunteers started arriving at the yard offering help.
Although the initial efforts to save Toffee were unsuccessful, he was later saved when the fire department arrived on the scene and rescued him.
Toffee's foster mother was relieved when he was finally retrieved from the hole and could hardly believe that she was holding him in her arms.
Please fill in your e-mail so we can share with you our top stories!