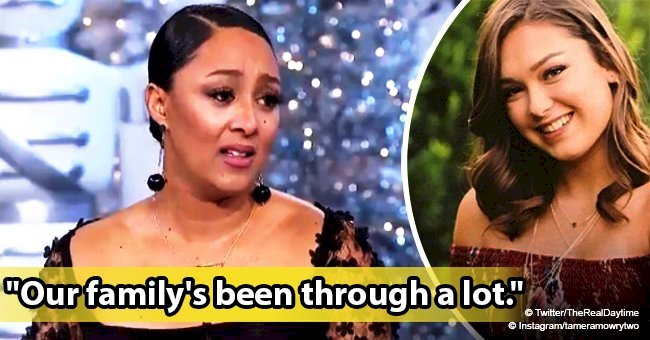 Tamera Mowry emotionally returns to 'The Real' after the death of her niece, Alaina
Less than three weeks after the death of her and husband Adam Housley's niece, Tamera Mowry joined her co-hosts on "The Real" and couldn't help breaking down in tears.
A clip from the Monday episode was shared on Twitter, revealing that Tamera used her first day back to remember and honor Alaina Housley who was one of the victims in the November 7 Thousand Oaks shooting.
REMEMBERING ALAINA
"When Alaina would walk in a room, she would change the atmosphere," said the "Sister Sister" alum as she fought to hold back tears.
"I met Alaina when she was five, and the Housleys -- we were a group of 10, meaning whenever we were together, we were together. …They are my family, along with my immediate family. We all get along, and Alaina was my little sister. She was my niece from marriage, but she was my friend and my sister from my heart."
THE REAL ISSUE
Tamera also identified a potential solution to the tragedies, especially gun violence-related ones that have become rampant in recent times. The forty-year-old believes it "starts from within."
"Our country – and it's sad to say this – but you have to be living underneath a rock to not believe these words: our country is sick. It's diseased; it needs healing. It needs healing from within," Tamera said, tearing up again.
The situation also moved members of the audience as some were seen wiping away tears.
A FANTASTIC SUPPORT SYSTEM
In a subsequent Instagram post, Tamera confessed she was nervous and thanked her co-hosts -- Loni Love, Jeannie Mai, and Adrienne Houghton -- for their support.
"She would want me to be here. And she would want me … sweet Alaina … to move forward."
"Thanks to these ladies for the warm welcome back to work today," she wrote alongside a group photo. "I was nervous, anxious and determined to speak for Alaina. I truly believe she helped me today."
THE HEARTBREAKING CONFIRMATION
After searching for Alaina following the shooting at Borderline Bar and Grill, Tamera and Adam, a former Fox News correspondent, released a heartbreaking statement confirming her death.
"Our hearts are broken. We just learned that our niece Alaina was one of the victims of last night's shooting at Borderline bar in Thousand Oaks. Alaina was an incredible young woman with so much life ahead of her and we are devastated that her life was cut short in this manner. We thank everyone for your prayers and ask for privacy at this time."
TRIBUTES & CONDOLENCES
Since then, the entire family, including Tamera's twin sister, Tia Mowry, has paid tribute to the late Pepperdine University freshman whose life was cut short at 18.
Tamera's co-hosts also sent out condolence messages to their colleague and Loni later revealed details from the tragic night when Tamera called her at 1 am.
MORE THAN COLLEAGUES
Alaina was laid to rest on November 15, and a week later, Tamera expressed her gratitude to Loni, Jeannie, and Adrienne, saying:
"I love you ladies. Your prayers, support, comfort and love wrapped me with warmth and strength these past two weeks."
A FOREVER KIND OF PAIN
The Housleys will forever feel the absence of their lovely Alaina, but as Tamera said:
"She would want me to be here. And she would want me … sweet Alaina … to move forward."
Here's wishing the Housleys and every other grieving family the strength to cope with their loss.
Please fill in your e-mail so we can share with you our top stories!