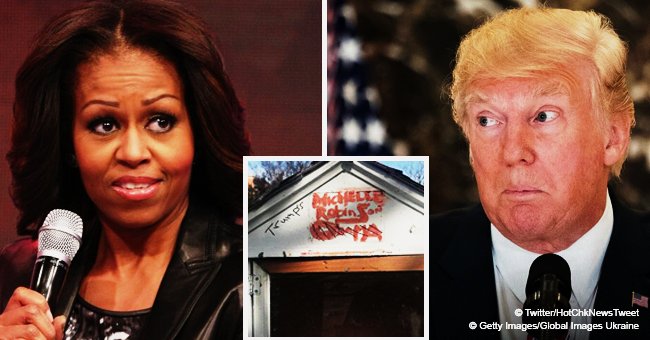 Little Free Library honoring Michelle Obama vandalized with Trump's name
The Little Free Library, which was built to honor the legacy of former First Lady Michelle Obama, has been vandalized and broken into by an unknown group of people. Hoping to remove the Obama family's name from the library completely, they replaced them with President Donald Trump's.
The library was put up a week after Donald Trump's inauguration, with its walls painted white to imitate the White House which was eight blocks away. Although it was put up during Trump's administration, it was put up to honor Michelle and the previous administration, which angered Trump supporters.
In the plaque in front of the building, it wrote "In Honor of Michelle LaVaughn Robinson Obama. Lawyer, writer, and First Lady of the United States". Although for a year, it was able to serve its purpose as a free library for all, attacks started to occur.
During the spring, its small glass window was smashed, and its plaque was ripped off during the summer. When it was replaced with a photo of Michelle, it was quickly torn down as well. Just this month, her name was crossed out and placed with "Trump".
According to Maureen Dolan-Galaviz who put up the library right outside her home at Northwest Washington,
"Who would do that? If there is one thing that should be off limits, it's the idea that we all deserve access to books."
What was once a community effort that unites both rich and poor, it has now become a source of tension. The vandalism occurred in Dupont Circle, where only 4% of voters supported Trump during the election.
While the community living there wants to see to it that the culprit is caught, they simply don't have the time to guard the library. After all, it was meant to be a library that people passing by could read from, and not anything else.
Community members feel that the vandalism might have been racially driven, trying not to give honor to the first black family to occupy the White House. To some, they feel that the culprit might have been deranged. Debby Hanrahan, 79, said that none of them have ever seen the culprit in action.
"I've never seen the vandal. None of us have time to stand guard and protect it. We are a neighborhood of writers and readers. For someone to have something out for a little library, I just can't fathom it."
Please fill in your e-mail so we can share with you our top stories!