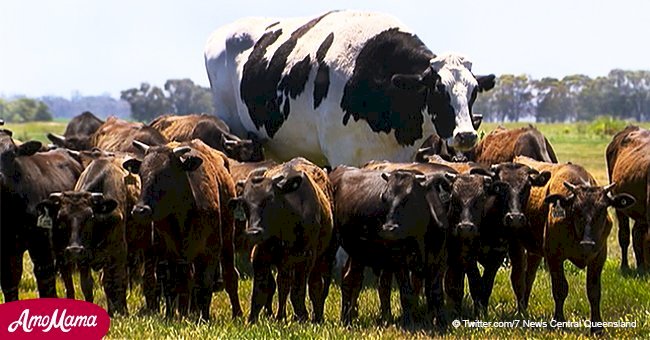 Enormous steer 'Knickers' is saved from the barbeque, because he is too big to be killed
A black and white steer that weighs more than a small car named 'Knickers' make headlines as Australia's largest cow and gets a second lease on life.
Geoff Pearson, the owner of Lake Preston in Western Australia, reared the seven-foot tall steer that weighs over 1,4000kg. Because of his immense size, Geoff was unable to sell him for export and resulted in this 6ft 4 inches tall steer to get a new lease on life on the farm as Geoff said:
"He was too big to go into the export plant's chain, we have a high turnover of cattle, and he was lucky enough to stay behind."
At least now with Knickers on the farm, it is easier for Geoff to spot the herd once out and about since the other cattle are drawn to him.
But at his current size, he still has a way to go in surpassing the current Guinness Book of World Records holder at a weight of 2,267kg and measuring at just over two meters tall.
Read more on our Twitter account @amomama_usa.
According to Rupert Mothersole, a vet who specializes in dairy cattle, some factors contribute to Knickers' size. A long history of select genetics and castration at a young age result in the growth plates staying open for longer, resulting in a larger specimen, like Knickers. Over the last two decades, the average size of cow breeds rose by 18% to an average of 630kg across all races.
In nature, we often come across individuals of a species that surpasses their averages like Knickers, and the Stokes alligator on display at the Mann Wildlife Learning Museum in Montgomery, Alabama would be another example.
The average adult American alligator (Alligator mississippiensis) measures in around 13-14 feet in length, but the Stokes alligator, so named after the family who captured and killed it, measures 15 feet and 9 inches with a weight of about 458,8 kg and can safely be said to be the largest alligator in the world.
The human of the species is no exception as Whitney Hallet from Seymour, Indiana proved on May 1, 2017, when she gave birth to her son Waylon. At the time of his birth, he weighed as much as a six-month-old at a massive 16 pounds.
Whitney got diagnosed with gestational diabetes during her pregnancy which caused her baby to grow more, but she didn't realize how much until she saw her baby for the first time After the birth of their son, Edmond said:
"We ended up weighing him three times because no one could believe he weighed 16 pounds. At first, I thought maybe the scale was broken."
Please fill in your e-mail so we can share with you our top stories!