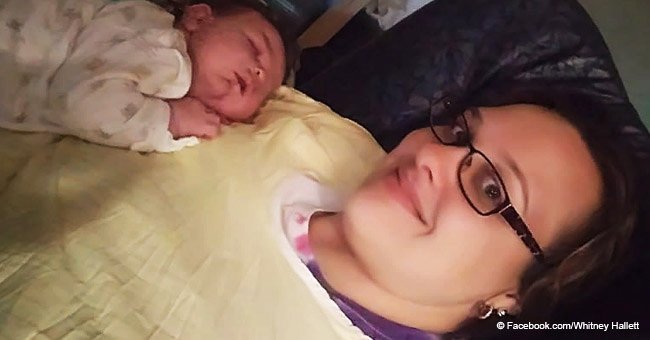 Mother gives birth to largest baby ever at 17 pounds and 7 ounces
Whitney Hallett, 28, gave birth to a baby boy, Waylon Cole, via C-section who weighed the same as a typical six-month-old baby.
According to the US Weekly, Whitney Hallett from Seymour, Indiana, gave birth to Waylon, who weighed a massive 16lb, more than twice the average weight of a new-born baby, on May 1, 2017.
Whitney was expecting a big baby after she was diagnosed with gestational diabetes, a condition that can cause the baby to grow, but she received a big surprise when she gave birth to her son weighing 16 pounds.
Read more on our Twitter account @amomama_usa.
Waylon is Whitney and her husband, Edmond Hallett's fourth child. Their first three children were also born overweight. They weighed eight pounds eight ounces, and 11 pounds 1 ounce, and 9 pounds 14 ounces.
"We ended up weighing him three times because no one could believe he weighed 16 pounds. At first, I thought maybe the scale was broken."
Edmond Hallett, US Weekly, June 29, 2017.
After Waylon's birth, Edmond had to rush out and buy clothes fit for children aged from six to nine months, and he added that they were no chances that his child was going to fit into a newborn's outfit.
Even though Waylon was the size of a six-month-old baby, he had to spend the seven weeks of his life in the NICU for breathing and feeding problems, after which he was discharged and went home with his parents.
The father also added that baby Waylon slept more than other babies usually did, but when he was awake, he was alert and smiled a lot and that he was a healthy baby.
Another mother, Chrissy Corbitt, had expected that she would be giving birth to a baby bigger than an average child but was in for a big surprise when her baby girl, Carleigh Brooke Corbitt, weighed a whopping 13 pounds, 5 ounces at birth.
According to Shareably, Chrissy Corbitt, from Orange City, Florida, had three children before little Carleigh's birth and all three were born larger than the average weight of the baby. Her first three babies had weighed around nine to 10 pounds at birth.
"When the pediatrician showed her to me across the curtain, I was like, 'Oh my gosh, she's huge,'" she told Inside Edition. "I couldn't believe it. It was like I delivered a toddler."
To her surprise, Chrissy found that she was not the only one waiting for her baby's arrival. Everyone in the ward had their focus on the delivery room, and when she finally made the last pull and brought baby Carleigh into the world, there was applause from all around.
Please fill in your e-mail so we can share with you our top stories!