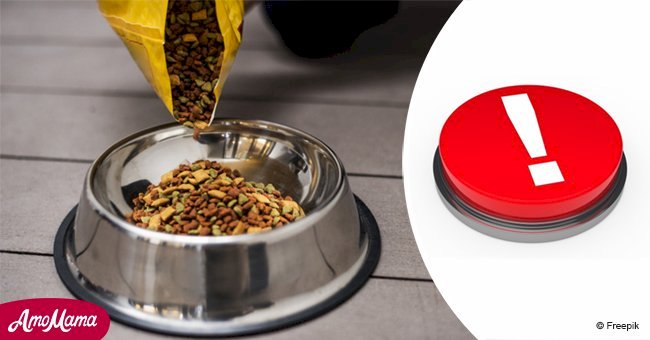 Recall alert: Abound dog food recalled due to possible risk to pets
An expanded recall got issued by Sunshine Mills on three different types of dog food due to elevated levels of vitamin D found.
The following products are being recalled:
Abound Chicken and Brown Rice Recipe in the 4lb, 14lb and 24lb packages (UPCS - 83556, 83573, 89076 respectively)
Nature's Place Real Country Chicken and Brown Rice in the 5lb and 15lb bags (UPCS 72543998959 and 72543998960)
Nature's Promise Chicken and Brown Rice in the 4lb, 14lb, and 28lb bags (Best before dates of November 1st - November 8th)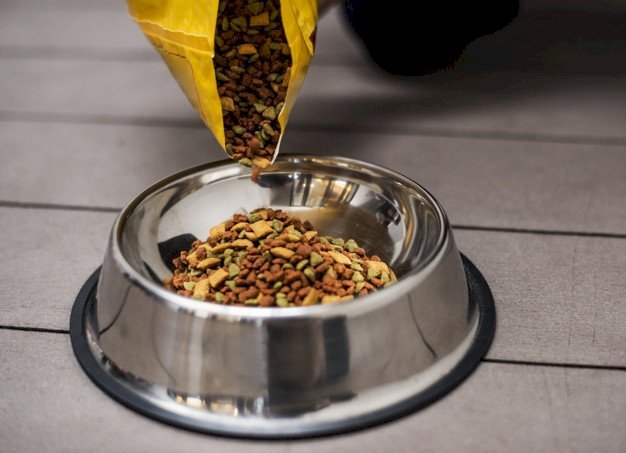 Source: Freepik
Symptoms associated with elevated Vitamin D levels in a dog include loss of appetite, vomiting, increased thirst, and excessive urination increased drooling and weight loss.
Read more on our Twitter account @amomama_usa.
These warning signs should not be ignored, left untreated it can lead to kidney failure. Customers with dogs that have eaten any of the recalled products that are exhibiting any symptoms should contact their veterinarian as soon as possible.
Any of the recalled products purchased can be taken back to the pet store bought for a refund. Sunshine Mills Inc can also be contacted directly at 800-705-2111 from 7 am to 4 pm Central Time, Monday through Friday or by email at customer.service@sunshinemills.com.
The Texas Department of State Health Services issued an alert to warn the public about honey pacifiers from Mexico causing botulism after four babies got hospitalized.
Hospitalizations of these infants occurred between mid-August until the end of October according to the FDA. They also emphasize that one should never feed babies honey before not at least one year old.
Honey can contain spores of bacteria called Clostridium botulinum. These bacteria secrete a neurotoxin named the botulinum toxin and can build up in the gut and then spread to other parts of the body, paralyzing muscles as it goes.
Babies have not built up natural bacteria to cope with this yet and left untreated it can be life-threatening. Symptoms include difficulty seeing, breathing, moving, swallowing, crying and talking.
If your baby displays any of those symptoms, you are advised to take your baby to the doctor immediately. The FDA recommended that anyone who purchased or used a honey pacifier to stop using it and discard it. They are also advising retailers to discontinue the products.
Earlier this month the FDA also recalled medicine used to treat high blood pressure. The recall is due to contamination that can cause cancer in certain lots of Irbesartan.
The drugs will have 'GSMS Inc' or 'Westminster Pharmaceuticals' on the label. Irbesartan blocks a potent chemical in the blood called angiotensin, causing muscle surrounding blood vessels to contract from binding with angiotensin II receptors.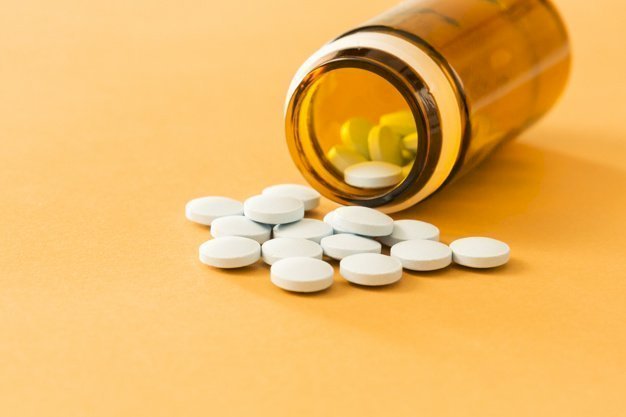 Source: Freepik
The FDA stated that the recalled drugs might contain an N-Nitrosodiethylamine, which is used in gasoline as a stabilizer and also in the making of liquid rocket fuel.
They also stress that only medicine containing Valsartan or Irbesartan is recalled and represent about 1% of Irbesartan products in the United States. If your drug is on the recall list below, the FDA urges people to get a replacement from your doctor or pharmacist.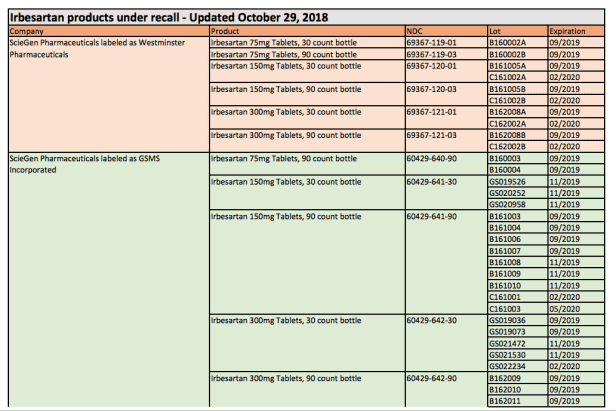 Source: coxrare.files.wordpress.com
Please fill in your e-mail so we can share with you our top stories!