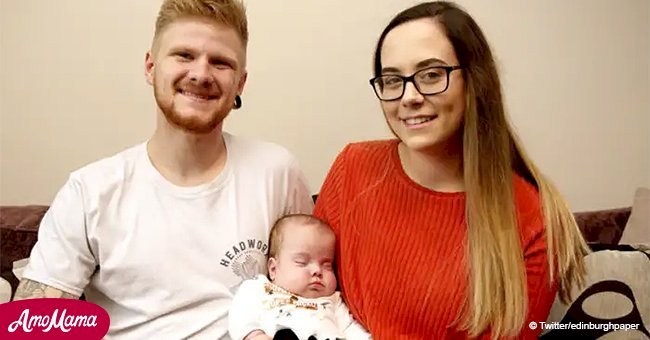 Miracle baby girl who underwent pioneering spine surgery while still in the womb was born healthy
A family welcomed a healthy newborn into their lives after the baby girl previously went through a surgery on the spine while still in her mother's womb.
The daughter of 19-year-old Georgia Axford and 21-year-old Tyler Kelly was diagnosed with spina bifida, a condition where there is a gap in the spine, during the 20-week scan, according to a report from Daily Mail.
In the UK, the only treatment available for the condition was a surgery by a doctor, who had not performed the operation before.
Therefore, the couple, who are from Yate, South Gloucestershire, decided to get the surgery done in Germany through Professor Thomas Kohl. For the procedure, they paid around $10,000.
Follow us on Twitter to learn more.
Fortunately, their baby was born healthy although prematurely at 30 weeks and four days. They named her Piper-Kohl Kelly after the surgeon who performed her surgery. Piper-Kohl also shared her birthday with the surgeon.
The source informed that it was yet to be certain if the operation was a complete success. The procedure can only be considered a success when Piper-Kohl starts walking.
However, there are no such warning signs so far and the medical experts have declared her to be healthy and in normal condition.
Daily Mail informed that Spina bifida, Piper-Kohl's condition, is known to cause weakness or paralysis in lower limbs. The victims of it are forced to rely on crutches or supports including wheelchairs.

Source: Facebook/DailyMail
Her exuberant mother, Axford, told the source, "She was covered in wires when she was first born but it was just the best feeling to see her. She was just so tiny. You could really see the mark on her spine when she was first born. It really makes you think how incredible the procedure was."

Source: Facebook/DailyMail
She further mentioned that she was named after the surgeon who saved her life as a "thank you" for all he did. She also recommended the surgery to other people who were facing a similar situation.
The surgery might have been costly and "scary," but it was definitely "worth it," Axford suggested.
However, Piper-Kohl's surgery is not an isolated incident. Previously in October this year, a surgery for spina bifida was also performed on two unborn babies at the London University College Hospital.
At the time, a team of 30 doctors carried out the two complicated surgeries by making a small incision in the mother's womb to get to the babies' spine.
All around the world, people have been exploring miraculous new possibilities in the area of maternal health. Previously, a woman from Sweden made headlines by becoming the first woman to give birth after a womb transplant.
Please fill in your e-mail so we can share with you our top stories!