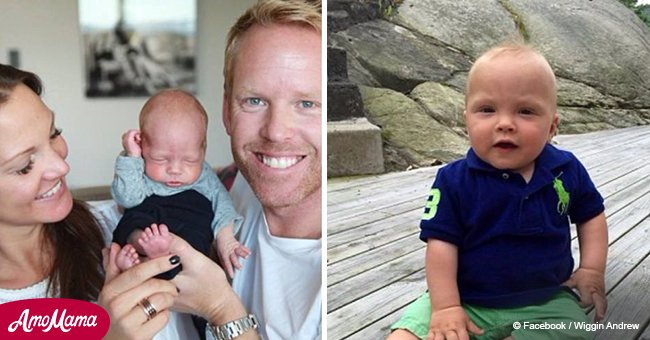 Woman made history by being the first in the world to give birth after a womb transplant

Malin Stenberg was the first woman to give birth after receiving a womb transplant.
Her son, Vincent, pioneered the way for other children to be born from transplanted wombs in 2014.
Malin told Daily Mail that she hopes sharing her story will give hope to other women who are also desperate to fulfill their dream of having a family.
Motherhood almost didn't happen to the 37-year-old mother from Sweden. When she was 15 years old, Malin found out that she had Mayer-Rokitansky-Küster-Hauser (MRKH) syndrome, a disorder that occurs in females and mainly affects the reproductive system.
This condition causes the vagina and uterus to be underdeveloped. Malin was saddened by the news because she always wanted to be a mother.
Follow us on Twitter @amomama_usa.
Malin said that she wasn't ready to hear the news and that she thought she'll never be able to carry a child of her own anymore.
"But that is what women are made for. It felt so unfair. I loved kids and babies, and I wanted to know what I had done to deserve this. I felt so alone," she added.
Though it's painful, Malin was left with no choice but to accept the reality. She thought that maybe motherhood wasn't meant for her. However, all that changed when she met Claes Nilsson, a 40-year-old competitive golfer.
Claes, who wouldn't accept the idea of not becoming a father, discussed other alternative birth methods with Malin. The first thing they did was looking into surrogacy and adoption. Then the couple learned of a new method that was in the experimental phase.
Malin signed up to participate in a project taking place at Gothenburg University. She was one of the nine women involved in the pioneering project. They were given the wombs of other women, who no longer needed their wombs.
Receiving her godmother's womb, Malin said: "She's incredible. She's made a great contribution to other people in taking this step to be a donor without any payments or anything: just good will."
The womb transplant was risky as previous attempts were unsuccessful, but Malin was determined to succeed.
Her transplant turned out to be a success, and she was given an In Vitro Fertilization (IVF) where she got pregnant after the first try.
Malin and Claes tread lightly during her pregnancy. Vincent was born two months premature. But after one year, the little guy became a vision of health and happiness.
The couple didn't intend on having any more children as they were overjoyed with their first child.
Please fill in your e-mail so we can share with you our top stories!