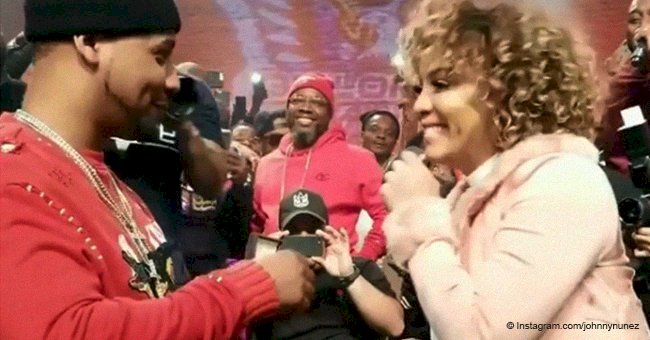 Juelz Santana fires back at claims he only proposed to Kimbella because he might go to jail
Juelz Santana was forced to clap back after fans on the Instagram claimed he only proposed to Kimbella out of fear of jail time.
Juelz Santana proposed to longtime girlfriend at the Apollo Theater in New York City. He was on stage to celebrate the release of The Diplomats' reunion album.
He called Kimbella onto the stage and serenaded her. He then went on to say, "This is my lady right here. She's been rockin' with me for a long, long time.
She's stuck with me through the ups and downs, the ins and outs, the good times and bad times. She held a nigga down when I put her through all types of hell."
He then got down on one knee and whipped out a huge diamond ring from his pocket. Kimbella said yes.
While most fans were super happy for the couple some were skeptical. One fan commented on Instagram that the rapper only proposed to his long-time girlfriend because he was "bout to go to jail for 2 years."
Santana stumbled across the comment and decided to set the record straight. He also took to the comments and gently corrected the skeptic.
"If I was worried about someone taking her then I wouldn't of did it. If someone take ya lady, a ring ain't gonna stop nothing. U just gonna be out of a ring n a lady. What u saying makes no sense... Stay blessed tho fam." replied Santana
Together Santana and Kimbella have proved their love for one another. Together they've weathered a number of storms including infidelity, disagreements on social media and rumors of domestic violence.
Kimbella has even remained with Santana while he battled a drug addiction. Now she is standing by his side after he pleaded guilty to possession of a firearm by a convicted felon and carrying a weapon on an aircraft.
His trial date is set for December 12th and he faces a max. sentence of 20 years behinds bars if convicted.
"Ladies if that's the man you want & love you will wait however long if the love is real." ~Kimbella
Please fill in your e-mail so we can share with you our top stories!