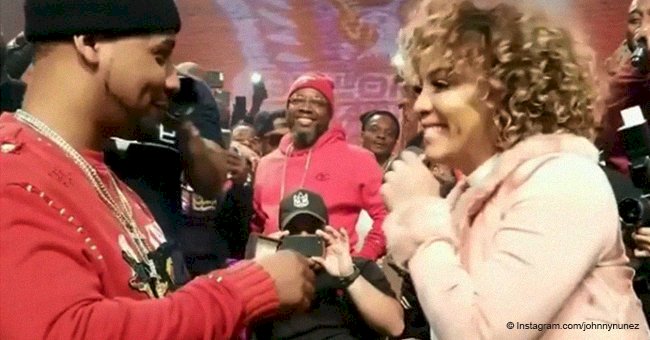 Juelz Santana proposes to girlfriend Kimbella with a huge diamond ring
The year is drawing to a close and folks are already prepping for the festivities, but Christmas came early for Juelz Santana and his longtime girlfriend, Kimbella Vanderhee.
The rapper was at the Apollo Theater in New York City on Friday to celebrate the release of The Diplomats' reunion album. The album, which is the ninth from the East Coast group, is called "Diplomatic Ties."
Juelz took to the stage and called up Kimbella, then proceeded to sing her praise to the roaring crowd.
"This is my lady right here," the "There It Go" rapper began in a video shared on social media. "She's been rockin' with me for a long, long time. She's stuck with me through the ups and downs, the ins and outs, the good times and bad times. She held a nigga down when I put her through all types of hell."
Kimbella could not help blushing as her man got down on one knee and whipped out a huge diamond ring from his pocket. All around them were friends and colleagues who were ecstatic to share in their joy.
"Juelz asks his baby mama of over 10 years for her hand in marriage. Let's see what she says" read the caption on the video.
HAPPY BRIDE-TO-BE
Juelz and Kimbella shared a passionate kiss, after which she said "Yes" to the proposal. In a subsequent Instagram post, Kimbella also showed off her dazzling new rock and wrote:
"Good night, literally, What a night to remember!"
LONG TIME COMING
Juelz and Kimbella have been together for over ten years and have two kids, eight-year-old son Juelz Santana James and six-year-old daughter Bella Monroe James.
The pair has also been through some difficult times together, some of which are chronicled on the latest season of "Love & Hip Hop: New York." Apart from dealing with infidelity, for which they are now in therapy, Juelz also shared his alcohol and drug abuse struggles with fans.
Kimbella and Juelz have also weathered legal storms together. Back in March, the 36-year-old was charged with one count of possession of a firearm by a convicted felon and one count of carrying a weapon on an aircraft.
LOVE CONQUERS ALL
Juelz, whose real name is LaRon James, was then placed on house arrest in his mother's house, which meant he could not be in the home he shared with his partner and their kids.
Kimbella opened up on "L&HH" about the hardships of living separately, and it wasn't until September that the court cleared the rapper to move back in with her.
Now that they're engaged to be man and wife, Juelz and Kimbella couldn't be happier!
Please fill in your e-mail so we can share with you our top stories!