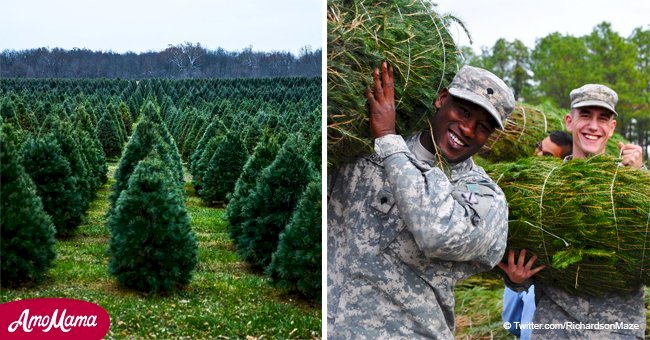 Michigan farm sends almost 600 Christmas trees to military families
A large group of volunteers helped pack nearly 600 Christmas trees to give to military families. The group was just one among many across the state.
Amidst cold temperatures, dozens of volunteers stood on the Wahmhoff Farm Nursey on Monday morning. Fox 17 reported that they were donned in gloves, hats, scarves, coats, and hoodies to protect against the cold.
Dan Wahmhoff, president and owner of the Gobles, Michigan farm, thanked everyone for their participation in the annual Trees for Troops event.
Follow us on Twitter for more @amomama.
Wahmhoff told the crowd:
"Folks like yourself coming here to volunteer your time in this kind of weather, it's just so great. I think we all appreciate our troops."
He added:
"It's an event we've been doing since 2005. We're just one of the participants."
Other farms include those in Allegan County and in Lansing. In Manton, another loading and packing system was taking place.
The trees were donated by the public. This year, they would be going to military families at Camp Lejeune Marine Corps base in North Carolina.
Wahmhoff spoke about his intention behind the act:
"It's a big deal to me to be able to contribute back, to give them something positive for their Christmas time. I know a lot of them are sacrificing it, away from their families, or the families are by themselves."
Volunteers were needed to bundle, pack, and load the trees onto FedEx trucks. Since 2005, the delivery company has partnered with the National Christmas Trees Association to make the event happen.
A U.S. Coast Guard veteran named Pete Matthews remembered the time he spent away from his family during the holidays:
"Being a young person, first time really a long way from home, it's good and it's bad. I spent Christmases in the North Atlantic, Thanksgiving at sea, where you got processed turkey."
Matthews was glad to assist with the efforts. The executive director of the Michigan Christmass Tree Association, Amy Start, also spoke during the event:
"They take so much care and time in growing these Christmas trees, and they know some trees will eventually go to military families one day. She said. When you come to an event like this and spend time with veterans, they tell you how much this means to them. It really makes it a special experience."
Source: YouTube/ MLive
The trees came in from all over Michigan, including Mathisen Tree Farm, of Greenville, Korson's Tree Farm, of Sidney, Badger Evergreen Nursery of Allegan, Tannenbaum Farms, of Mason; and Gwinn's Christmas Tree Farm of Horton.
Within an hour, the trees were ready to be sent off. FedEx was to travel 890 miles south to make the special delivery.
Another act of kindness to a beloved veteran was shown at a restaurant in Fort Benning, Georgia. One mother, Heather, decided to visit her Army son Gavin and treat him to some lunch.
When she received the $100 bill, however, she found that it had already been paid. A group of people had seen her uniformed son and decided to cover their expenses as a sign of thanks for his service.
Heather didn't get a chance to thank the people, but she was extremely grateful for their kind act and promised to "find a way to pay it forward."
Please fill in your e-mail so we can share with you our top stories!