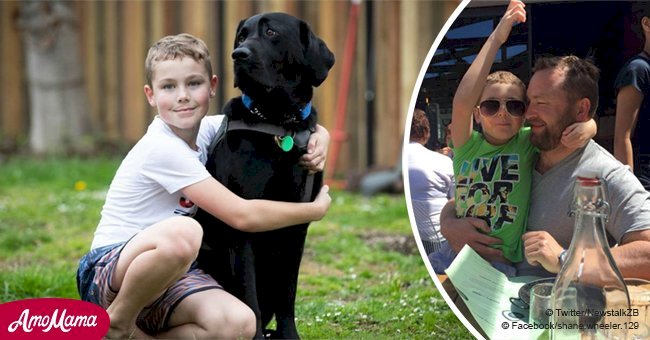 Dad 'embarrassed and angry' at McDonald's for turning away autistic son due to assistance dog
At a McDonald's branch in New Zealand, a father was not allowed to buy his autistic son chicken nuggets because of his son's assistance dog.
On the way home, Shane Wheeler, from Auckland, stopped at a McDonald's branch in Bombay to pick up some chicken nuggets for his autistic son Noah and seven-year-old daughter for dinner.
Noah and his assistance dog, Nitro entered the McDonalds store with his dad and sister. But as Shane was busy ordering from the self-service kiosk, a staff member approached them and said pets are not allowed in the store.
He hopes that in sharing his story that the need for better staff training is highlighted especially regarding the importance of assistance dogs.
In spite of the black Labrador wearing a grey vest with the words 'assistance dog' written on, the employee kept insisting that Nitro is a pet and not allowed and asked them to leave.
Read more on our Twitter account @amomama_usa.
Embarrassed and angry they left the branch after explaining multiple times that Nitro is not a pet, but an assistance dog for Noah due to his autism.
Still, without chicken nuggets, Shane swallowed his pride and anger and drove to another branch in Mercer down the road where he used the drive-through.
MacDonalds apologized for the incident and assured that the branch owner would be reminding staff of its policy to serve people with registered assistance dogs.
Shane said that he would not boycott McDonald's only because his son Noah loves their chicken nuggets, but will not go back to the Bombay branch in the future. He hopes that in sharing his story that the need for better staff training is highlighted especially regarding the importance of assistance dogs.
On 18 November Lauren Monument also felt the need to speak up about her experience. The 25-year-old and her husband, David, joined their two nephews at Weston-super-mare to meet up for lunch.
They decided to go to Weston Beach Cafe, but their entry got denied because of Lauren's guide dog, Goldie. Turned away from being seated inside due to 'hygiene reason,' they had to sit outside in the cold or find another place to eat.
Lauren was livid and said she had tried to explain the law to them regarding Guide Dog access, but none of the staff was interested in listening. She explained in part on her Facebook post:
"They sheepishly hid behind the counter and in the kitchen and walked away to avoid all conversation. They accepted my dog was a Guide Dog and refused entry regardless."
Lauren Monument has a rare genetic disorder and has been blind since she was thirteen years old. She's had Goldie for five years, and they are constant companions. Deciding to take further action Lauren added:
"I will be taking all the appropriate legal action required and also want to urge you to think twice about whether this is a place you want to spend your money at."
Weston Beach Cafe disputed the account of events and posted in a statement on Facebook which read in part:
"It is with much regret that I must make this statement concerning a person being refused entry to our café with a guide dog. It is very unfortunate that the lady feels she was discriminated against. We have ALWAYS allowed guide dogs inside the cafe, even during peak season. The cafe currently has a 4.1-star rating based on 144 Google reviews. One of these mentions fantastic food, lovely staff, and a relaxing atmosphere."
The matter is under investigation to find out exactly what happened that day. A spokesperson for Weston Beach Cafe also said that the CCTV footage is being reviewed. They hope to have the misunderstanding resolved and will give copies of the footage to all concerned.
Service dogs of any nature are an essential part of the everyday lives of those with disabilities. They improve the lives of those with disabilities remarkably, as evident with 11-year-old Bella and her special needs dog, George.
Bella suffers from a rare progressive disorder named Morquio Syndrome and affects her mobility. Her mobility was greatly restricted until her mother decided Bella needs a service animal.
George is a great Dane, and the two of them have been inseparable from day one. After receiving George, she walked again for the first time in years. In a video uploaded by Bark, Bella said:
"I could tell he needed me and I needed him."
Please fill in your e-mail so we can share with you our top stories!