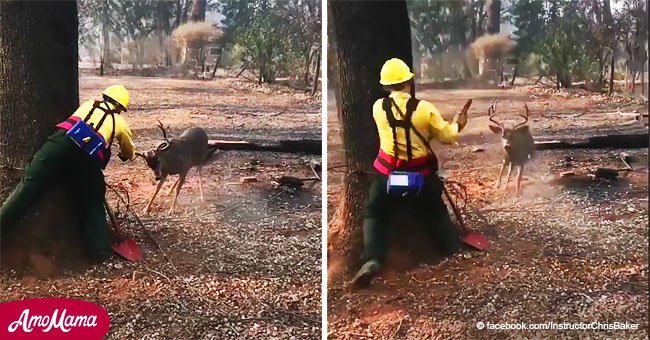 Firefighters rescue struggling deer caught in power line during raging wildfires
While California always seems to have a fire season, this year was particularly bad, since Camp Fire was one of the most destructive fires in history.
The most generous people have looked for every way to help the victims of the fires in everything they can. This shows how the compassion of the people has ignited and spread, just like the fire that caused the whole disaster.
Many people with this desire to help have come along the roads of nature and surrounding the burned areas, with the intention of placing food and water to help the wildlife that has been affected by the fires to be safe.
The problem is that this type of actions to help wildlife is not very useful in the long term. In fact, it can have very bad results for animals and people.
"Do you want to help wildlife after the fire?" The National Recreation Area of the Santa Monica Mountains posted on Facebook." As difficult as it is to accept, the best thing you can do is leave them alone."
"Do not approach the wildlife and, please, DO NOT LEAVE WATER OR FOOD, as it can habituate them and have other unwanted consequences." Wildlife is highly ingenious.
Human intervention in the lives of wild animals affects their ability to survive and these animals could end up becoming dependent on the humans that feed them, which makes them a serious problem.
However, there are some circumstances in which animals need a little help from humans, but this help must be given very carefully and quickly.
An example of this is a video of firefighters who found a deer that had become entangled in a fallen power line. The men knew they had to help the animal or else they would hurt themselves and even die.
The video of the rescue was published in social media explaining the situation in the title. The images have touched many people since this type of small actions restores our faith in humanity.
There is nothing like helping to make us feel better with ourselves, as in the case of these firefighters who rescued a pair of donkeys who walked the road thirsty and hungry.
If you want to help wildlife, the best thing you can do is let them pass by your garden or call the professionals in case the animal is in danger and do not try to rescue them yourself.
If you want to know more about the devastation caused by California's wildfire check this article.
Please fill in your e-mail so we can share with you our top stories!