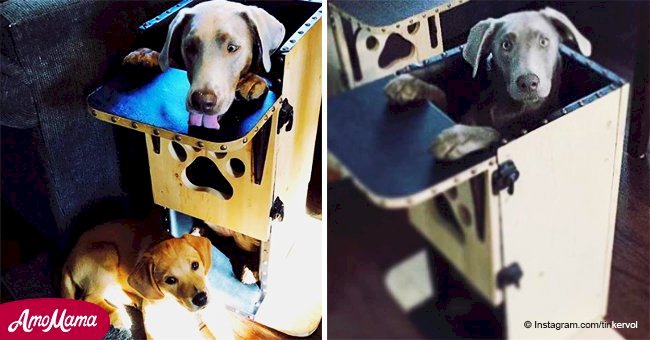 Labrador's owners design a special high chair to keep their pet alive
A Labrador retriever named Tink is as normal as any dog except when it's time for her meals. She can't eat like other dogs, so her owners had a special high chair made for her.
Tink suffers from a condition called Megaesophagus. Every time she eats, the food and water don't make it all the way to her stomach. The poor pup was born with it, and it stops her from eating properly.
"The esophagus, how it works, is it kind of squeezes the food and water down in a wave-like motion. We call that peristalsis. And because she can't do that, when she eats or drinks, the food just stays in the esophagus," explained Doctor of Veterinary Medicine Jeremy Hutchinson of Weisner Innis & Schoen.
Follow us on Twitter at AmoMama USA for more details and updates.
For the food to reach her stomach, Tink needs to be in an upright position during her meals.
Tom Sullivan, Tink's owner, came up with a solution and had a "bailey chair" made for the dog. It is like a baby's high chair for pups.
The pooch has been eating four times a day while seated on the chair since she was nine weeks old. It might not be typical, but the chair saves her life.
Sullivan also shared that they also have to burp Tink after eating.
"For about five minutes we typically burp her, as crazy as that sounds. And then we do a throat massage where we get in deep to the esophagus and just try to help move the food down," he said.
Taking care of dogs with the condition requires a lot of work and patience. Sadly, most people don't have enough time to provide extra attention to fit their needs.
"What ends up happening is the animal might be euthanized because the owners can't handle or can't dedicate the time and effort it takes, or they suffer from malnutrition," said Hutchinson.
According to FOX17, the survival rate is low for dogs like Tink. For the Sullivans, they get help from online support groups. They ask other owners of dogs with Megaesophagus for tips and such.
Another Labrador, 17-month-old Buck also has the condition. To save his life, Team Edward Labrador Rescue and a couple of university engineers worked together to build a special chair much like Tink's just for him. The entire team made the chair in just a day, and Buck was finally able to eat properly.
Apart from Megaesophagus, Short-Spine Syndrome is also another condition that several dogs suffer from. It is a very rare condition that there are only 15 cases known worldwide.
One of them is Quasimodo who gained attention online after being rescued.
Please fill in your e-mail so we can share with you our top stories!