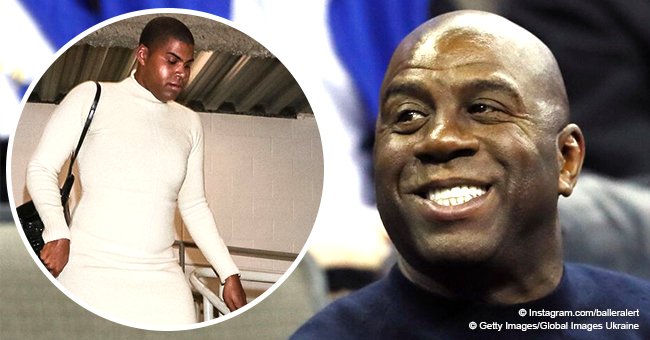 Magic Johnson's son EJ stuns in tight, white sweater dress paired with black boots
EJ Johnson looks stunning in a body-hugging outfit as he flaunts his curves after a fun night out. The 25-year-old fashionista recently opened up about gender fluidity on Lisa Ling's CNN documentary series "This Is Life."
Magic Johnson's fashionista son is used to make head turns wherever he goes, and one of his most recent nights out was not the exception. EJ was caught by paparazzi leaving the ArcLight Cinema in Los Angeles this week, and even though he wasn't on an official schedule, his looks were on point.
EJ, always ready for the camera, rocked a tight, white sweater dress and kept it comfy with a pair of black boots. He completed the look with a black purse and his usual flawless makeup with lots of highlighter.
Johnson, who first became known for his appearance on the reality show "Rich Kids of Beverly Hills," is set on making a name for himself in the fashion industry. Not only as a gender fluid icon who wears "women's clothes," but also as a designer, as he recently confessed to Lisa Ling on his CNN's show "This Is Life."
GROWING UP TO BE AN ICON
In the hour-long episode, in which Ling tackled the gender fluidity movement with the help of EJ, the 25-year-old star and his parents, Magic and Cookie Johnson, talked about the signs that pointed out to EJ growing up "different" from an early age.
Magic, an NBA legendary player, and huge AIDS advocate said that it was hard for him, in the beginning, seeing his son playing with dolls. "I keep taking them away and trying to put something else on his hands. And about an hour or two later, I'd go back, and it's back in his hands," he recalled.
Cookie added that, at first, they thought they could "steer" EJ in the "right" direction, and that maybe if the taught him that boys play with certain toys and girls with others, he would eventually get it. But that didn't happen.
EJ'S BIGGEST SUPPORTERS
For Magic, the turning point came when he got a call from EJ's teacher telling him that the boy liked not only to play with girls but pretending to be one in their "dress-up corner." "And so I said, ok now I got to start working on me," Magic stated.
But even though they knew EJ was different from the beginning, that didn't make the blow of discovering EJ was gay any easier for the family. Johnson admitted on the "Red Table Talk" with Jada Pinkett Smith, that once he came out to his dad, Magic had a hard time accepting the reality.
Eventually, he came around, and to this day, he and Cookie are EJ's bigger supporters.
"I think it's all about you not trying to decide what your daughter or son should be or what you want them to become. It's all about loving them no matter who they are, what they decide to do," Magic told Ellen DeGeneres last year.
EJ is a leading voice in the gender fluidity movement. His confidence and strong presence have made him an example to follow for many young people that feel lost when it comes to their identity, and it's precisely for that crowd that he wants to create a new clothing line.
But as he works on it, EJ can be seen on MTV's TRL and every fashion show or industry party that takes place in L.A or New York.
Please fill in your e-mail so we can share with you our top stories!