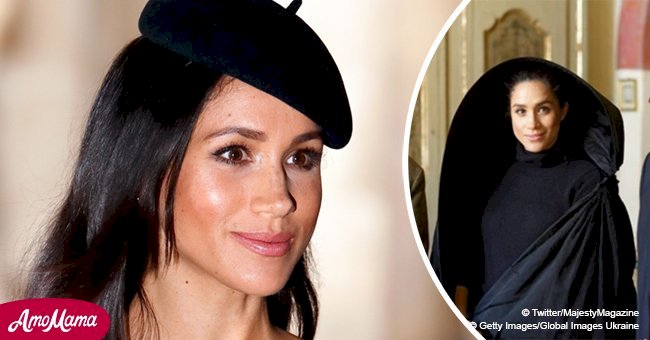 Meghan Markle's unseen photos from 2015 shows the future Duchess in a Maltese head-dress
In never before seen photos from Meghan Markle in Malta, the then 'Suits' actress looked regal and destined for royalty.
It was a world away from being the Duchess of Sussex, but back in 2015 during her trip to Malta may have just shown her future and that destiny was about to intervene.
The trip to Malta was part of a feature story with Elle Magazine, and she got flown out to Meridiana Wine Estate on the Mediterranean archipelago on behalf of the Malta Tourism Authority.
Previously unreleased pictures of Meghan's time in Malta showed her spending time with the aristocrat Marquis de Piro and his wife, Frances.
Read more on our Twitter account @amomama_usa.
Joe Little, the editor of Majesty Magazine, took to Twitter and shared the pictures that seemed to have looked into the future. In the picture, Meghan draws your attention immediately as she stands between the aristocratic couple.
They are both looking elsewhere, but Meghan is looking straight at the camera. Dressed in all black in a ghonella national head-dress, perfectly poised and almost mysterious. Alongside the image, Joe Little wrote:
"In Valletta on Saturday I was shown this pic of the then Meghan Markle with the Marquis de Piro and his wife Frances during her visit to the island in 2015. Meghan, whose great-great-grandmother was born on Malta, wears the għonnella national head-dress. #duchessofsussex."
Fans quickly responded upon seeing this picture of Meghan, as one with the handle @letsfangirlbout wrote:
"What's so damn incredible about seeing old pictures of pre-Harry Meghan in these roles, it's like she was born to be Harry's partner. He couldn't have picked a better wife to be on the same level as he is when it comes to wanting to help others."
Another fan with the username @@Happy63801613 also commented:
"She had a full and interesting life before Harry. She has been fine without harry. Great girl! She is not an "interloper."
If someone had to tell her then that she would now be married to Prince Harry while expecting their first child and waiting for renovations at Frogmore Cottage at Windsor to finish in order to move in, she probably would have laughed.
But it seems that every fairytale has another side. Meghan overstepped on royal protocol numerous times, and it is no secret that adapting to the royal ways of doing things proves challenging at times. Some corners of the British press have begun to add another spin to the fairytale, and it does not paint a pretty picture.
For the past few weeks Meghan had been the subject of a string of negative briefings by sources claimed to be 'royal insiders,' and 'courtiers' or 'family friends.' And they all portray Meghan as bridezilla with little regard for the feelings of others.
Before the wedding, Prince Harry allegedly told courtiers, "What Meghan wants, Meghan gets." An assistant also left dramatically at 5 am after a bombardment of phone calls and emails. And Meghan reportedly made Kate cry at the fitting of Princess Charlotte's bridesmaid dress.
Whether reports on the demanding side of Meghan are accurate or not, it goes without saying that there are two sides to every story, and something can be taken out of context easily.
In general, a groom and mainly the bride is not known to be the most stressfree and amicable of people before their wedding. For Meghan, marrying into the royal family with all it's implications, and particularly the pressures on the wedding at that point must have been extremely stressful.
Typically when a husband-to-be stands up for what his future bride wants at her wedding, especially towards his own family, it is seen as a man that loves and stands by his chosen partner. In Prince Harry's case, it is painted as demanding and bossy.
None the less, Meghan is one of the favorite royals, not just among the British, but worldwide. She is an accomplished woman in own right, and with the first big royal tour under the belt, fans got to know the royal couple better. Their different approach to their royal duties and the issues they paid attention too got well received.
And now the couple is awaiting their firstborn in Fall next year with plans to move out of Kensington Palace and to their new home at Frogmore Cottage at Windsor Castle before the little one's arrival.
Currently, under renovation, they have realistic expectations that Frogmore may not be turnkey ready before the baby's arrival, for this former 20 room house is undergoing a complete overhaul.
Formerly divided into apartments for royal staff it is now getting a complete remodeling which will include a nursery, an all-purpose space for gym and personal training use and living quarters for a part-time nanny.
The couple chose Frogmore from a list of potential future homes, but Frogmore not only holds a special place for Prince Harry, but it has enough living space for their growing family, staff and to entertain visitors. It also provides space away from prying eyes where their future children can live as much of a normal life as possible.
Please fill in your e-mail so we can share with you our top stories!