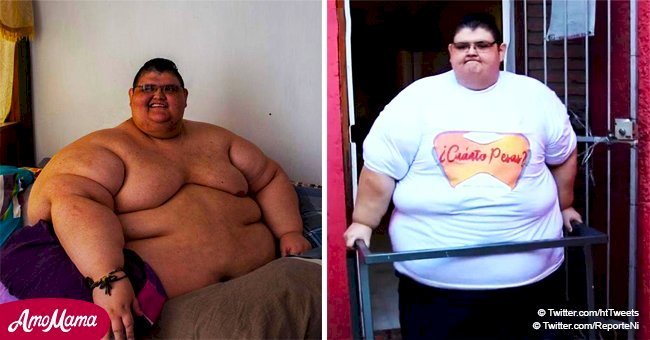 Here's how the world's heaviest man who was stuck in bed for 10 years lost half his weight

Pedro Franco who was stuck in bed for ten years at his home in Aguascalientes lost half of his weight in two years after the medical procedure.
Before Franco left home and made a trip to Guadalajara, Jalisco, to undergo a sleeve gastrectomy and a gastric bypass as well as having a gastric band fitted, he weighed a massive 92 stone.
The former world's heaviest man currently weighs 47 stone. But it seems that he's not yet satisfied as he focused on losing another 23 stone, as reported by Daily Mail.
To set him up for the operation, Franco started a better eating routine for three months and shed 385 pounds.
Follow us on our Twitter account, @amomama_usa, to learn more.
Guinness World Records previously recognized Franco as the world's most obese man.
Every year of his life, he was gaining on average a stone and a half. Sadly, his money related circumstance didn't enable him to put a stop to his unhealthy ways.
"When I was six I weighed almost 60 kilograms, and that was not because I didn't take care but because it was a disease I was born with," he said.
The title "World's Most Obese Man" served as an opportunity for him to free himself of the illness.
In November 2016, Franco went to Guadalajara and was admitted to the clinic.
However, due to his obesity and related conditions such as diabetes, he was told that the operation was impossible.
To set him up for the operation, Franco started a better eating routine for three months and shed 385 pounds.
In November 2017, he underwent a key-hole surgery to divide his stomach by half. After the successful surgery, Franco has also been able to decrease the measure of medicine he was taking for his diabetes and hypertension.
All of his life, Franco has been fat, but after a car accident at 17 years old, he got even bigger.
He lives in a little Mexican province of Aguascalientes and has been in Guadalajara for his treatment over the most recent year.
His mom Maria de Jesus Salas Lemus is positive about the program which was incited by health threats ranging from diabetes to organ failure.
Please fill in your e-mail so we can share with you our top stories!