Indiana couple sues school blaming his suspension for their son's suicide 2 years ago
A couple from Indiana file lawsuit against a high school for their disciplinary action taken on their son, which allegedly led to his suicide almost two years ago.
17-year-old Patrick McCalley died on October 6, 2016, from a self-inflicted gunshot wound after he was handed an in-house suspension at Carmel High School for his racially inappropriate Snapchat messages that he sent to another student.
Now his parents, Chris and Marilyn, have sued the high school alleging that their son underwent an "extreme and excessive psychological distress" while being questioned by an assistant principal at the school.
Patrick was isolated in a closed room while being interrogated by Toby Steele, the assistant principal, and Carmel Police Officer Phil Hobson.
A Carmel, IN High School student, Patrick McCalley's suicide raises questions over how schools discipline kids. "There is no legislation in Indiana that requires a parent be called before a student is questioned by administrators" https://t.co/1nCRLTSpXY #education pic.twitter.com/9HtWLWOq0S

— Michael Nardi (@iPublicPolicy) July 11, 2018
Follow us on Twitter to learn more.
The lawsuit filed at Hamilton County states that in the aftermath of the questioning, the student wrote a "self-incriminating statement" under the penalty of perjury. He was also told that he was being suspended from school.
@bry_nn @PatrickMcCalley @MadiStephen pic.twitter.com/OU2HebrgD9

— Danielle Daily (@danielle_daily_) February 25, 2016
His parents have claimed that Patrick was an outstanding student at the school, where he excelled as the member of the marching band, jazz band, and concert band. He had no previous records of indiscipline.
On the day he was handed suspension, he woke up a "happy, well-adjusted boy" who had just received an email correspondence from a representative of the United States Air Force, where he was considering his future.
Carmel, IN couple sue city, high school over son's, Patrick McCalley suicide, saying he suffered 'excessive fear' https://t.co/QrGi9PzYF1 #education #mentalhealth

— Michael Nardi (@iPublicPolicy) November 28, 2018
The parents showed their outrage at the fact that following a closed questioning session with Steele, their son had decided that he no longer wanted to live.
The lawsuit named Carmel Clay School Corporation, Carmel High School, the city of Carmel, former district superintendent Nicholas Wahl, and questioners Steele and Hobson as defendants.

The parents have sought damages for the "loss of love and companionship" of Patrick as well as medical, burial, and legal expenses related to his demise.
Meanwhile, the district officials responded to IndyStar with a statement denying the allegations. Their statement claimed that the facts of the incident are different from what is transcribed in the lawsuit.

At the same time, the bereaved parents stressed the fact that they want to turn their tragedy into a lesson for other parents so that they won't have to suffer a similar fate.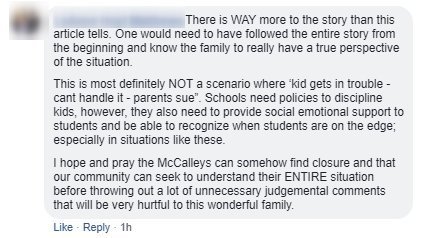 They have called for a policy requiring that a parent or a counselor be present during such a stressful meeting between students and school administrators.
The incident has further raised the larger question as to how should school administration work to discipline their students.