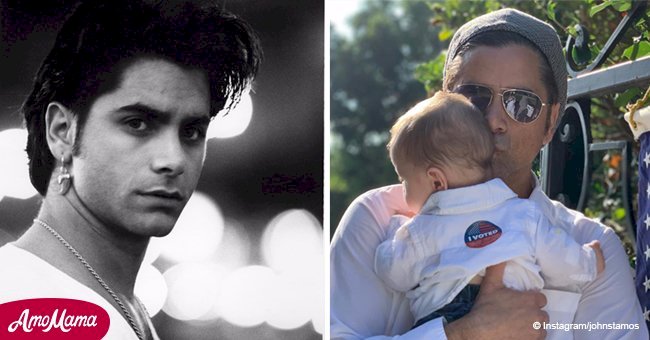 John Stamos no longer feels like a playboy after entering fatherhood in his 50's
John Stamos is best known for his roles in television shows such as "General Hospital" and "Full House."
His handsome looks gained him many fans worldwide, but now that he is a father he is looking to change that. Read more on our Twitter account @amomama_usa.
The Emmy award-winning actor and his wife had their first child in April; a son they named William but whom they lovingly call Billy.
John Stamos played an uncle on "Full House," but admitted that he is facing challenges in his new role as a father. The main one is trying to keep the romance alive with his wife, Caitlin.
Babies do tend to interrupt their parents' sleep patterns, but John has said that Billy has ruined his attempts at creating more children with his wife.
"[Billy] keeps us busy, so we haven't had time to do the thing you do to have another one."
BORN TO BE A FATHER
Despite there being obstacles in his sex-life, John is a proud father to his seven-month-old son. He recently attended a charity event for Childhelp National Child Abuse Hotline where he gushed about his son.
John is known for having a playboy lifestyle and trading on his looks, but he has always wanted to be a father, even going so far as to pray for it.
John and his wife have decided that Billy won't be following in his father's footsteps anytime soon as they don't want to push him into the limelight, but will wait for him to make his own decision.
SEPARATION ANXIETY
Fatherhood has created not only challenges for John's love life but also his career. He now finds it difficult to be away from home for long periods because he misses his son.
In an appearance on "Live with Kelly and Ryan" in October John burst into tears when the topic of his son came up, as he was filming at the time and had not seen Billy for many days.
On the show, John revealed that he had named Billy after father and that when they are apart, he misses his smile most of all.
He then deflected and asked the host Kelly Ripa about her children, but she said they were old enough to be left at home, with her youngest child already being 15 years old.
Please fill in your e-mail so we can share with you our top stories!