Reginae Carter melts hearts with throwback pic of herself with parents Lil Wayne & Toya Wright
Reginae Carter is thankful for her parents, and she let the world know in recent pics shared to her Instagram account. The reality star recently celebrated her 20th birthday and just finished filming her first movie.
Being the daughter of hip-hop icon Lil' Wayne and Toya Wright, Reginae Carter is considered royalty in the entertainment industry.
She's never been shy when it comes to showing her love and appreciation for her parents, and on Thanksgiving, Reginae took the chance to remind fans where she comes from with a series of pics with her mom and dad posted to Instagram.
HER PARENT'S TWINS
In the first pic, Reginae is standing behind her dad checking her phone, while Lil Wayne smiles for the camera and shows a gang sign; in the next one, Reginae and Toya look like twins posing cheek to cheek and making a kissy face to the camera.
The last one is the one melting hearts all over Instagram. Reginae stands in the middle of her parents wearing a crop top and a huge smile on her face. Lil Wayne and Reginae, who were high school sweethearts, match their daughter's joy with huge smiles in place too.
"Thankful. Beyond thankful actually. Love you, mommy & daddy," Carter captioned the pic.
Fans took over her comment section to gush about her beautiful family, and discuss if Reginae favors more her dad or her mom.
"Smiles like Lil Wayne, looks like Toya," wrote one user. Another added, "When you stand next to your mom you look like her, but then you go stand next to your dad, and you look like him too. Like a perfect 50/50."
HER PARENTS' RELATIONSHIP
Wayne and Wright had Reginae when they were still teenagers, and even though their relationship didn't work out, they have nothing but love for each other, and Toya explained why a few years ago while talking to Essence.
"When things are going wrong with him, I'm always there because before anything—before the fame, money, anything—I'm his friend and I've been in his life since we were like 13 years old," she started. And continued:
"That's what people don't understand; it's bigger than us being together. I look at him like family. I'll always have his back; I'll always go to bat [for him] because I'm like a real loyal person that's just who I am and the way I was raised. That's my daughter's father, and that's my friend. That's just the relationship we have."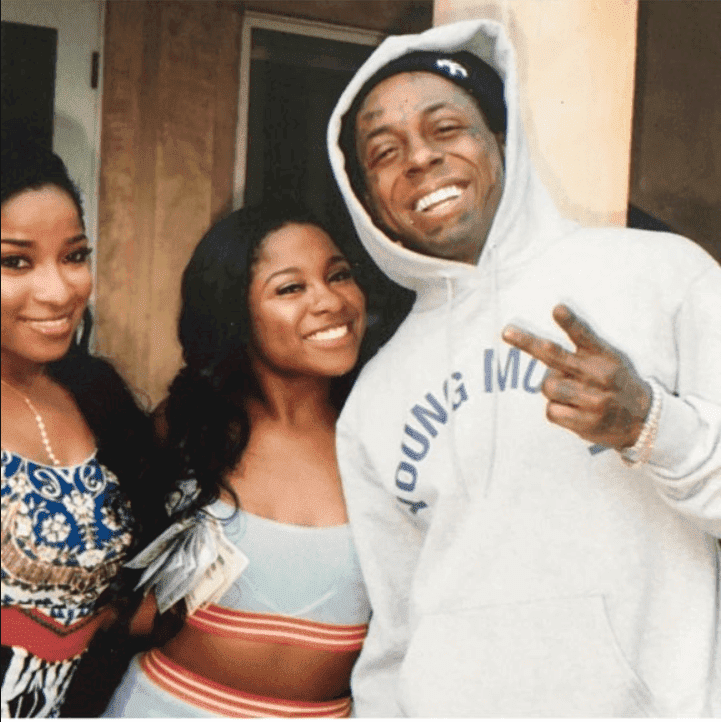 HER FIRST MOVIE
Now that Reginae is a 20-year-old, she's making her parents proud as she just finished her first ever movie project, a Lifetime production based on "Pride & Prejudice" but with a modest twist to it, and filmed in Atlanta.
According to Deadline, Reginae will be giving life to the boy-crazed sister Lydia, and she shares the screen with actors such as Reginald VelJohnson, Jackée Harry, Tiffany Hines, Raney Branch, Brittney Level, Alexia Bailey, and Juan Antonio.