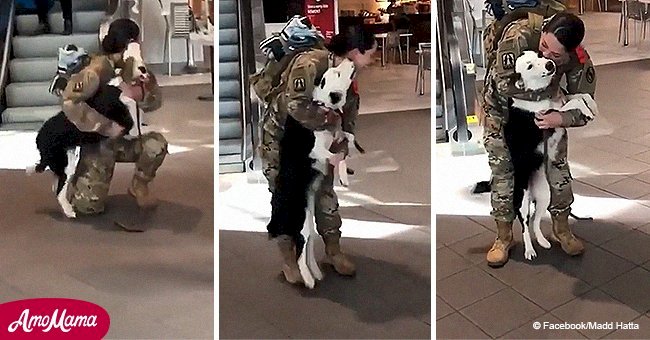 Soldier returns home and gets the sweetest welcome from a beloved family dog (video)

When the family of a soldier returning home for Thanksgiving greet her at the airport, the reaction from her dog goes viral.
Cassandra Cabrera, currently stationed in Africa, returned home on Thanksgiving eager to see her family for the holidays. The video shows an emotional reunion as Cassandra got greeted by her family and her beloved dog upon her arrival at the airport.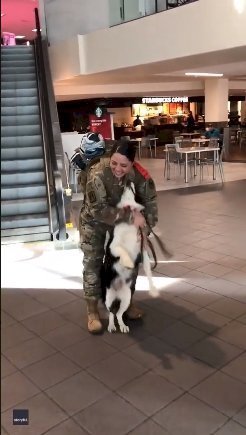 Source: Facebook/storyful
When Cassandra deployed to Africa, her dog, Miss May, was still a puppy and she wasn't sure that Miss May would remember her. In the clip Miss May stared into the oncoming traffic coming off the escalator, she paid no attention to anyone until her tail suddenly started to wag. Cassandra had just stepped off the escalator and approached them.
Read more on our Twitter account @amomama_usa.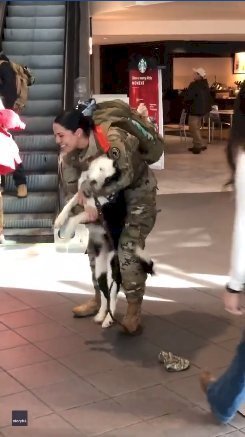 Source: Facebook/storyful
Miss May clearly remembered Cassandra as she ran to her and jumped up and licked her in excitement. Miss May almost jumped out of her skin with joy, and Cassandra was thrilled to see her beloved dog as well.
A happy heartwarming reunion for them all, and just in time for Thanksgiving. With Taylor and Sgt. Tom Hanson the situation was reversed.
Tom stood at the airport nervously awaiting the arrival of Taylor. Nicknamed 'Tay-Tay,' this yellow Labrador served her country in two deployments detecting bombs and worked with Sgt. Tom Hanson before she retired from service.
Now, two years after they had to go their separate ways, Tom was going to get her back. A flight attendant with an appreciation and gratitude for those that serve their country and a love for dogs made it all possible.
Molli Oliver's passion is reuniting military men and women with the dogs they served with, and she does so by using her own money to make it happen. She has done it before, and now it was Taylor and Tom's turn.
The moment Molli brought Taylor into the room where Tom waited, she recognized Tom and ran over to him excitedly. A genuinely heartwarming reunion between these two that forged strong bonds while in service of their country.
Another type of reunion occurred when Petty Officer 2nd class Royce Walters managed to get his beloved dog Ty to the United States.
While deployed to Africa, the Virginia-based Navy sailor saw many stray dogs near their camp, but one puppy stood out and pulled on his heartstrings. Being acutely malnourished and sick Walters decided to take care of the dog and named it Ty.
Ty became part of the family at camp, but once deployment came to an end, a turn of bad weather prohibited Ty from getting on the flight with Walters back home to the United States.
More than five months later, with the help of SPCA International, Ty made it onto a flight home where Walters eagerly awaited his arrival. Finally reunited, Ty is ecstatic to be with Walters again, and the feeling is mutual.
Please fill in your e-mail so we can share with you our top stories!