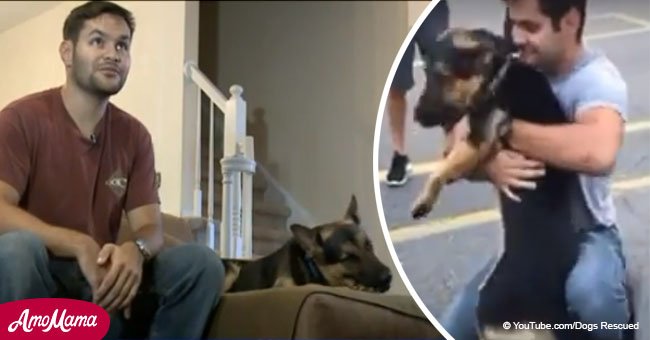 Incredible reunion between a stray dog from Africa and the US sailor who adopted him (video)
Footage shows the heartwarming reunion between a stray dog named Ty and his owner Petty Officer 2nd class Royce Walters.
In the clip below, the Virginia-based Navy sailor can be seen hugging Ty, the dog he adopted from deployment.
As reported by WTKR, Walters saw many stray dogs near his camp when he was deployed to Africa on New Year's Eve. One puppy immediately caught his eye.
"He was in bad shape," he told the news outlet. "He had this weird tarry substance on his head and on his back. He had cuts and contusions that looked to be infected. He had worms and was definitely malnourished."
For some reason, this dog moved his heart.
Follow us on our Twitter account @amomama_usa to learn more.
HE BEGAN FEEDING THE PUPPY
"I would give him my food and just eat MRE's, which was great until I was able to convince some local to give me dog food for some Reese's peanut butter cups. So that was a good trade. Then I got to eat my own food," said Walters.
Walters named the dog Ty, and he became a part of the family at his camp.
Once their deployment came to an end, Walters had intended to bring Ty home. However, only hours before they were set to go home, bad weather rolled in.
THE DOG WASN'T ALLOWED ON BOARD
The sailor's flights were canceled, prompting them to fly commercial. Unfortunately, Walters was restricted to bring Ty on the plane.
"I was super excited to go home and see my family again, and then suddenly it's this sort of dark cloud comes over it and takes away the joy of getting to go home," he said.
Walters was left with no choice but to leave Ty in the camp. Though he's not sure if he'd be able to keep his word, the sailor promised to his dog that he would come back for him.
THE INCREDIBLE REUNION
Over five months of being apart from each other was harrowing for Walters.
Luckily, with the help of the SPCA International (SPCAI), Ty was able to make it onto a flight. The dog traveled from Africa to Amsterdam to the United States, where his owner was waiting.
"I was a little worried he wouldn't recognize me right away, hadn't seen him in a few months, but you can tell that he did. It took him a second, but yeah, it was pretty awesome," Walters said.
Ty is still getting used to changes from Africa. According to Walters, everything was new for the dog, including the front door, air conditioning, and grass.
Meanwhile, another dog named Rainey wasn't able to contain his excitement when he finally saw his owner, Erick Williamson, who was enrolled in graduate school at Colorado's Front Range.
Rainey had escaped and ran away from home. The dog then wound up in a shelter somewhere in northwestern New Mexico.
With the help of the vets, who scanned Rainey to check if she had a microchip to find out her owner, the dog was finally reunited to Williamson.
Rainey's reaction upon seeing Williamson was priceless. She ran towards him in excitement as she wagged her tail enthusiastically.
Please fill in your e-mail so we can share with you our top stories!