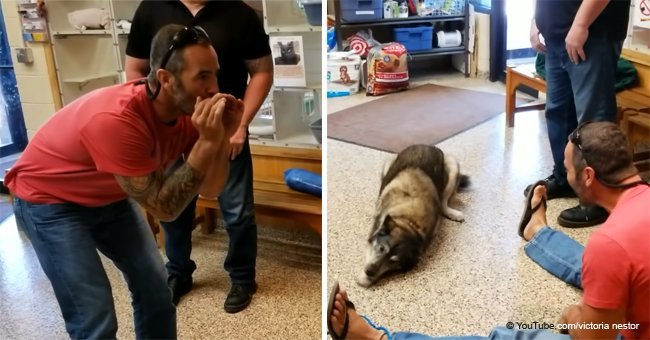 Missing dog has an emotional reaction when reunited with owner after two months
Rainey was so excited to see her owner after she ran away from home more than two months ago. The video of the dog's reunion with her owner melted hearts online and quickly became viral.
Erick Williamson, Rainey's owner, was enrolled in graduate school at Colorado's Front Range. The dog, a six-year-old malamute mix, was under the care of Williamson's mother in New Mexico.
In June 2018, Rainey had escaped and ran away from home. She went off all alone and wound up in a shelter somewhere in northwestern New Mexico.
At the time, the staff checked if the dog had a microchip but found none. They had no way to find out who was Rainey's owner.
Follow us on Twitter at AmoMama USA for more viral stories and updates.
Since the shelter lacked in resources, they had Rainey transferred to a shelter that would accept an unidentified dog with heartworm.
Eventually, the Summit County Animal Shelter in Colorado took in Rainey and had her treated.
Vets at the shelter scanned Rainey to check once more if she had a microchip.
To their surprise, the scanner picked up the chip, and a number appeared on the gadget.
The staff immediately contacted Williamson to inform him that they had his dog.
It was lucky that Williamson had not left Colorado when he received the call since he was preparing to move to Louisiana at the time.
He quickly went to Summit County on August 11, 2018, and he was once again reunited with his pet.
Rainey's reaction upon seeing her owner was priceless. She ran towards him in excitement as she wagged her tail enthusiastically.
Williamson was glad he could take along Rainey on his move and that he would be able to treat her for heartworm properly.
The sheriff's office at Summit County expressed that Rainey's story brings light to the importance of having all pets microchipped. If it weren't for the small device, Rainey wouldn't be reunited with her beloved owner.
Meanwhile, another dog, a bullmastiff, wasn't able to contain his excitement when he finally saw his owner, who is a soldier, after a couple of months.
Please fill in your e-mail so we can share with you our top stories!