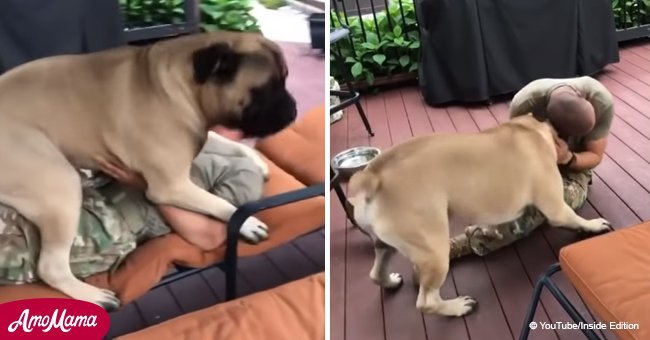 Mammoth bullmastiff can't stop clambering over owner when they are finally reunited
A boisterous pup shows his joy at being reunited with his soldier owner.
Jaxson the bullmastiff has become a media star, and all because he couldn't hide his joy at his master's return from the Army.
Jason Floyd, 19, had been away for three months while attending Army basic training, and his 18-month-old Bullmastiff had been missing him.
Jason's mother Lisa Floyd said that she had put some of his worn shirts in pillow cases for Jaxson, so he wouldn't feel so lonely, and the pup would always sleep cuddled up to them.
She knew Jaxson and Jason missed each other, but nothing prepared her for the heartwarming scene she filmed and posted on Youtube.
"I was in tears. It was very heartwarming and loving. I was grateful to be able to capture that so we can always have that, you know that moment."
Lisa Floyd, Youtube, 24th od August 2018.
A surprise reunion for Jaxson
Lisa said when she was preparing for her son to leave, she put a few of his worn shirts in pillows so Jaxson could smell them and feel less lonely.
Lisa wanted to do something special for Jaxson and Jason's reunion and decided to give the dog a big surprise.
A sweet reunion for Jason and Jaxson
She asked her son to wait out on the deck, prepared herself to film and called Jaxson.
The 72 kilos dog ran onto the deck, then lept onto his beloved owner, totally flattening the young man.
Jaxson whined and licked frantically at Jason's face, and his tail drumming out his happiness.
Lisa shared the video on Youtube, where it went viral, garnering over 160.000 views in just a few days.
If you are an animal lover, look up the following articles.
Please fill in your e-mail so we can share with you our top stories!