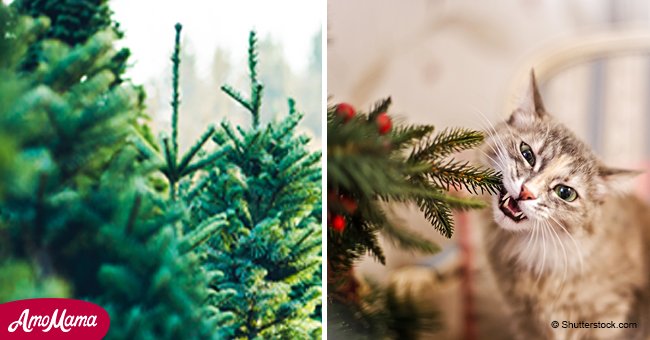 If you're tired of cats ruining Christmas decorations, here's the perfect solution

Argos' half parasol Christmas tree is the perfect solution for anybody with irritating felines.
It wouldn't be Christmas without the timeless tradition of Christmas trees. However, it usually gets savaged by our cats.
Argos is tackling this issue with their half parasol Christmas tree.
The artificial tree stands six feet tall and has an additional long bare trunk so your cats won't have the capacity to paw away at your well-placed baubles.
Follow us on our Twitter account, @amomama_usa, to learn more and scroll down to watch the video below.
It comes in a standard green color for $42.54, or a snow-covered version for $47.86.
Argos' item description reads: "Keep your perfectly placed baubles, bows and bells out of reach of curious, crawling kids or your cats' playful paws with this 6ft parasol tree.
"If Santa's been extra generous, there's plenty of room to stack pressies underneath rather than scattering them around it. It's also a great alternative to the traditional tree if you're a tad tight for space."
There's additionally a choice of more conventional tree styles on sale at the high street chain right now, with a third slashed off an extensive variety of Christmas tree choices for customers planning for the festive season.
According to Why Christmas, "The first documented use of a tree at Christmas and New Year celebrations is argued between the cities of Tallinn in Estonia and Riga in Latvia! Both claim that they had the first trees; Tallinn in 1441 and Riga in 1510."
The 16th-century German preacher Martin Luther may have been the first individual to bring a Christmas Tree into a house, in the way we know it today.
There's a story that one night before Christmas, Luther was strolling through the forest and looked up to see the stars shining through the tree branches.
It was so beautiful to the point that he went home and told his kids that it helped him to remember Jesus, who left the stars of heaven to come to earth at Christmas.
Please fill in your e-mail so we can share with you our top stories!