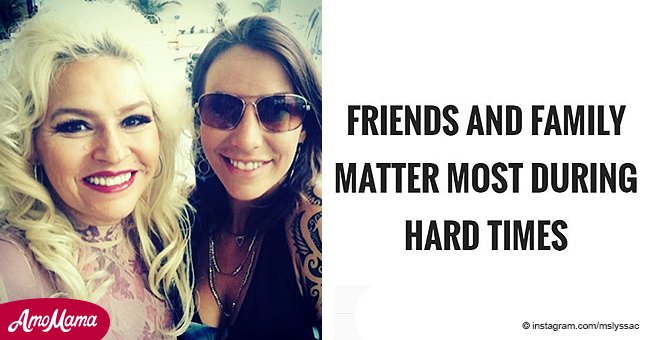 'Please continue to pray for our family': Beth Chapman's daughter shared new post
Lyssa Chapman, best known for "Dog the Bounty Hunter" took to Instagram to ask her followers for prayers and well wishes after Beth Chapman's cancer returned.
The image Lyssa uploaded read, "Friends and family matter most during hard times," followed by the caption, "Mahalo for all the well wishes. Please continue to pray for our family."
Lyssa's post hit the Internet soon after it was revealed that Beth was admitted to Cedars-Sinai Medical Center in Los Angeles. She underwent an emergency medical procedure related to her cancer returning.
Dog, the woman's husband, revealed that doctors got most of the throat cancer out and that her airways were clear. However, it could have spread, so doctors would do a biopsy scan to make sure it didn't.
The star of the TV show pointed out that the first time Beth was diagnosed with throat cancer, it didn't spread, and that he hoped this could be just like that. Finally, Dog asked people to send prayers as Beth "is not doing good."
Beth addressed her relapse on November 29, when she uploaded a photo on Instagram showing her laying on the hospital bed next to Dog. In the caption, she wrote, "Another bend in the road, yet not the end of the road."
Lyssa, who rose to fame with "Dog the Bounty Hunter" lives in Kaneohe with her girlfriend Leiana and her two daughters, Madalynn Grace and Abbie Mae. It was not always like that as she walked down the aisle with Brahman Galanti in 2009.
However, their relationship came to its end in 2013 due to the repetitive violent behavior of Brahman. Even though such negative behavior happened many times, Lyssa didn't want it to reach the media, so she avoided going to the police.
In 2012, she opened her salon called No Tan Lines in Honolulu, Hawaii, and has focused most of her time in it. At the moment, the family is in California waiting for Beth to be released from the hospital. The family is expected to stay in their Colorado property.
Please fill in your e-mail so we can share with you our top stories!