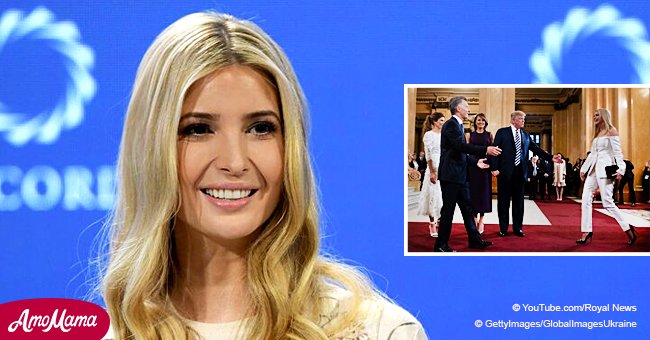 Ivanka Trump seen wearing a pantsuit from a designer who criticizes her father

Ivanka Trump wore a striking creation by a fashion designer who refused to dress Melania.
Ivanka Trump, America's First Daughter is apparently patronizing a fashion designer who is at odds with the Presidential couple.
A photograph of Ivanka wearing a pants suit by Gabriela Hearst for the G20 summit in Buenos Aires was posted on Twitter/ StarStyle on December 1, 2018.
"If they want to wear the clothes, they can buy the clothes."
Gabriela Hearst, Twitter/ StarStyle, December 1, 2018.
A DESIGNER WHO REFUSED TO DRESS THE FIRST LADY
Ivanka's choice was startling since Uruguayan-born designer Gabriela Hearst is a fierce and vocal opponent of President Donald Trump and his administration.
Hearst's antagonism reportedly extends to the First Lady, and though she has famously dressed several Washington figures such as Kamala Harris and Senator Tammy Duckworth, she refused to dress Melania Trump.
The growing list of designers who would rather not have their brand endorsed by the First Lady includes Zac Posen, Christian Siriano, Marc Jacobs, and Tom Ford.
DESIGNERS GIFT THE FAMOUS WITH THEIR CREATIONS
Designers often gift the famous or politically prominent with their creations, which gives their work cachet. White House protocol stipulates that First ladies can accept clothing as gifts from designers, but the items are sent to the National Archives when their time in office is over.
DESIGNERS REFUSE TO DRESS MELANIA TRUMP
Hearst was contacted and told that the First Lady admired her work, but she responded by saying that if Melania wanted to wear her clothes, she'd have to buy them like everyone else.
The growing list of designers who would rather not have their brand endorsed by the First Lady includes Zac Posen, Christian Siriano, Marc Jacobs, and Tom Ford. Underlying their refusal is the Trump administration attitude towards the LGBT community.
Ivanka seems to be above such concerns as she wore Hearst's off-the-shoulder ivory pantsuit in Buenos Aires. Melania Trump was also photographed wearing a Gabriela Hearst pantsuit at Microsoft's Innovation and Policy Center.
IVANKA UNDER FIRE FOR USING PRIVATE EMAIL FOR GOVERNMENT BUSINESS
In 2016, Donald Trump lashed out at his rival for the presidency, Hilary Clinton for using her private e-mail to conduct official business.
It seems that the shoe is now on the other foot, as Ivanka Trump, who serves as a Senior Advisor to the President, was discovered to have been using her personal e-mail to discuss work matters with aids.
"Ivanka Trump sent hundreds of emails last year to White House aides, Cabinet officials and her assistants using a personal account, many of them in violation of federal records rules, according to people familiar with a White House examination of her correspondence"
Washington Post
Ivanka defended her e-mails by stating that all her correspondence is registered and archived in the White House server, and are not concerned with confidential issues.
Ivanka maintains that unlike Hilary Clinton, she has not deleted her e-mails. Investigators ascertained that the e-mails deleted be Clinton were all of a personal nature and of no interest to the FBI investigation.
Ivanka Trump, who has become something of a fashion icon, wore a $13,000 evening dress flashing in to a state dinner in honor of French President Emmanuel Macron's visit to the United States.
Please fill in your e-mail so we can share with you our top stories!