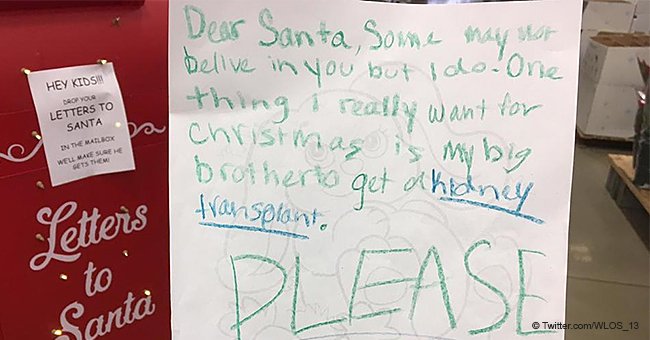 Little girl goes viral after writing letter to Santa asking for a kidney on behalf of sick brother

Shelly Thomas, a manager of a Lowe's store in Franklin, North Carolina, took to Facebook to share the sweet Santa letter she found in the store's mailbox.
The lady explained that they placed a "Santa Claus Mailbox" in the establishment wherein they urge children to write letters and throw them in so that Santa gets them. While Shelly was organizing them, she found one that attracted her attention.
A girl only identified as "Kaitlyn, FL" wrote it using green and blue crayons. In it, the girl pointed out that while several people don't believe in Santa, she did. Later, she wished for her big brother to get a kidney transplant.
TRYING TO FIND KAITLYN'S FAMILY
Given the fact that Kaitlyn didn't provide much information about her or her family, it is difficult for Shelly to contact them. However, she believes that they probably visited the store from Florida as that area gets several visitors from that particular state.
One of the aspects that immediately got Shelly's attention was that, unlike most children, Kaitlyn didn't ask for a toy or something for her. Instead, she put her brother's well-being first, proving that children don't think only about themselves.
Soon after the Facebook post went viral, different media outlets contacted the store and Shelly to learn more details about the letter. A representative from Lowe's revealed that the manager wanted to find the family to "let them know people care and support them."
OFFERING A KIDNEY
Another positive aspect about Shelly sharing Kaitlyn's letter is that several people offered to donate their kidney. So far, Kaitlyn's family has not been identified. Shelly is sure that she will find them sooner rather than later, though.
As the National Kidney Foundation reported, more than 121,600 people are waiting for kidney transplants only in the US. The median wait time is 3.6 years and, unfortunately, 13 people die every day while waiting for a kidney.
BECOMING A HERO
If Shelly manages to find Kaitlyn's family and one of the Facebook users who offered their organs actually serves as a transplant donor, they will become heroes, just like Joseph Osborn, who donated his liver to two-year-old Emily Smith.
That selfless act took place at UPMC Children's Hospital in Pittsburgh. 30-year-old Joseph, who didn't know Emily's family, heard that the toddler had cancer and that the only choice she had to survive was to have a liver transplant.
Jason considered that he could help, so he got in touch with Emily's parents and, after running some tests, doctors said that he was a match. Soon after the surgery took place, Emily was dismissed from the hospital as she was cancer-free.
Please fill in your e-mail so we can share with you our top stories!