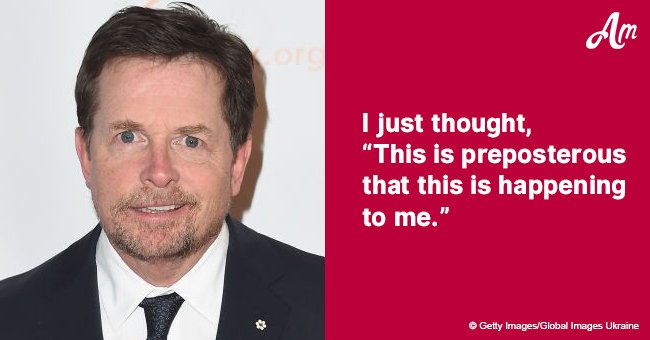 Michael J. Fox recalls how Parkinson's diagnosis freaked him out in a new revealing interview

Michael J. Fox opened up about his feelings and his reaction when he was first diagnosed with Parkinson's disease.
Michale J. Fox, 57, has revealed his first reaction to his Parkinson's diagnosis when he was just 29, reported Closer Weekley.
Fox admits that his first reaction was incredulity, followed by anger at being diagnosed with a crippling disease.
"I just thought, 'This is preposterous that this is happening to me.' I got this diagnosis, and it freaked me out, and I ran from it."
Michael J. Fox, Closer Weekley. November 27, 2018.
ESCAPING FROM HIS DIAGNOSIS THROUGH DRINK
Faced with the prognosis of a progressive and debilitating disease, Fox admits that he went into denial, and sought refuge in alcohol.
Parkinson's is a long-term degenerative disorder of the central nervous system that mainly affects the motor system and is characterized by palsy and difficulty in walking. Later stages of the disease may include dementia and behavioral issues. A daunting diagnosis for a 29-year-old man.
The Michael J. Fox Foundation for Parkinson's Research has raised over $450 million for research into treatment and a cure for Parkinson's.
COMING TO TERMS WITH PARKINSON'S
Fox admits that his initial reaction put a strain on his marriage to actress Tracy Pollen, but with her help, he got his drinking under control and started working on taking back his life and going back to what he loves the most: acting. Fox's 30-year marriage to Tracy Pollan is solid and loving, a rarity in Hollywood.
FOX'S SECRET TO HAPPINESS IS LIVING IN THE PRESENT
Fox works on living day by day, and making the most of his life. He refuses to dwell on what the future may bring, or on what the disease might do to his body or his mind:
"It's OK to understand where I am today, but I don't have to spend a lot of time thinking about where I'll be tomorrow. I do the things I need to do — exercise or manage my meds correctly or get the correct amount of rest — but I don't do them so tomorrow's better. I do them so today is good."
LIVING A FULL LIFE WITH HIS WIFE AND CHILDREN
The "Back To The Future" star has confided that his wife and his children are his great support and his comfort in his darkest hours.
He and Pollen share 4 children: Sam Michael, 29, twins Aquinnah and Schuyler Frances, 23, and Esmé, 17.
"They take it in — it's just natural. I don't know how we got so lucky that they turned out this way, but they apply that to everything they do."
Michael J. Fox has created a foundation which funds research into a cure for Parkinson's and helps sufferers who need logistical or financial support.
Read more on Twitter Amomama USA.
IT TOOK FOX 7 YEARS TO GO PUBLIC
After his diagnosis in 1991, Fox hid his condition from everyone outside his family. In 1998 he finally went public. Fox decided to use his fame to heighten awareness with regards to Parkinson's which was regarded at the time as an "old people's disease."
The Michael J. Fox Foundation for Parkinson's Research has raised over $450 million for research into treatment and a cure for Parkinson's and is the biggest private contributor to scientific research in the world.
It is Fox's ambition to find a cure for the disease that affects over one million patients in the United States alone. The actor has confessed that helping to find a cure for Parkinson's would be the greatest achievement of his life.
Please fill in your e-mail so we can share with you our top stories!