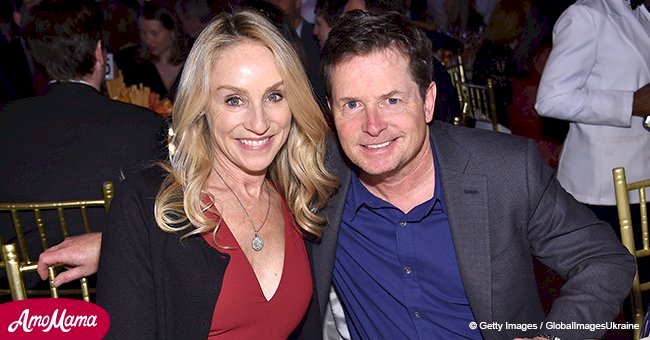 The truth about Michael J. Fox and Tracy Pollan's inspiring 30-year love story
Michael J. Fox's marriage to Tracy Pollan remains rock solid even after 30 years.
Speaking to PEOPLE, the couple revealed how their love for each other kept them together through sickness and health.
Their union is a rarity in Hollywood, where divorce is commonplace. Follow us on our Twitter account, @amomama_usa, to learn more.
The couple tied the knot in 1988, six years after they met on the set of the hit series, "Family Ties." Michael, 56, and Tracy, 57, played lovers, Alex Keaton and Ellen Reed, on the series.
The pair professed love for each other while filming "Bright Lights, Big City" in 1987.
Sam Michael, the couple's first child, came to their lives on May 30, 1989. Six years later, they welcomed their twins, Aquinnah Kathleen and Schuyler France.
Tracy gave birth to another daughter, Esme, in 2001.
ENDURING LOVE
Michael and Tracy still gush over each other almost three decades after they exchanged vows.
Their biggest challenge came when Michael was diagnosed with Parkinson's disease in 1991.
Tracy said Michael has been calm despite his physical condition.
"He's so relaxed and so accepting of where he is, and that makes it easier for me, the kids, and everyone around him," Tracy said.
But she admitted that the diagnosis left her and Michael in shock and despair for several days.
Michael and his family kept his disease from public knowledge until 1998.
The "Back to the Future" actor said he feared at first that Tracy would leave him because of his condition.
"But nothing Tracy was doing was showing me that she didn't want to be with me," Michael said.
DEALING WITH CONFLICTS
Like any couple, they also argue from time to time. But they don't blow their disagreements out of proportion.
They always work for a quick resolution of any conflict.
One of the secrets to their strong marriage is they always give each other the benefit of the doubt, Michael said.
The Emmy-winning actor said that he felt like he won a lottery for having a very supportive and understanding wife.
The couple's eldest son, Sam Michael, has been getting media attention because of his striking resemblance to his father.
Sam, 29, and Michael, were photographed together at Madison Square Garden when they attended the Stanley Cup playoffs in 2015.
The father and son duo wore dark jackets, shirts, and prescription glasses, which made them look even more similar to each other.
Please fill in your e-mail so we can share with you our top stories!