Dad busts out epic moves & steals the show at dance competition in viral video
A dad showed his support for his daughter and stole the show all the same when he decided to burst into an impromptu dance routine in the stands of a dance competition. The internet, of course, loved him.
While some dads prefer to cheer for their children in a demure way and without causing a ruckus, there are others that prefer to go all out and don't mind being the center of attention and laughs. The father of this story is in the second group.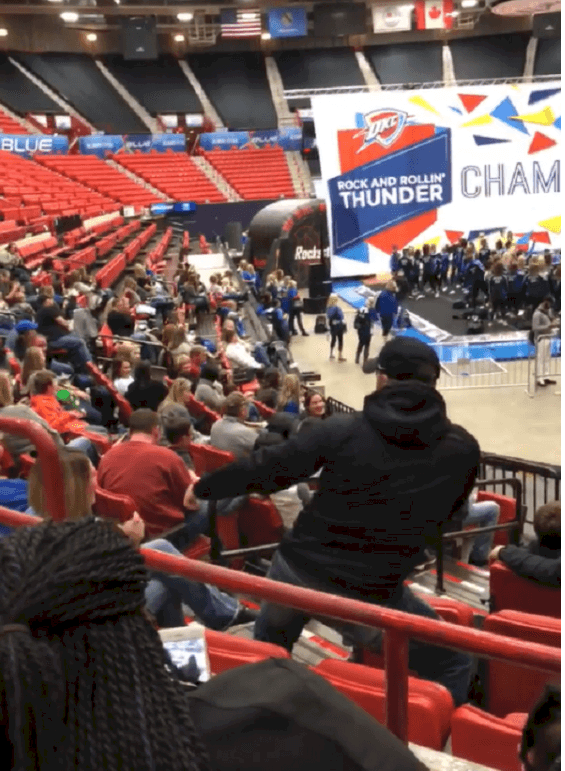 "That's a good dad obviously not missing one practice and actually watching his kid at them."
DAD STEALS THE SHOW
Maecie Selzer, from Chickasha, Oklahoma, attended her daughter's dance competition alongside dozens of other parents on November 18. And while the main attraction should have been on the stage, where the girls were showing off their skills, an unidentified dad brought the show to the stands.
The man, a few rows ahead of Selzer, suddenly stood up and starting to dance to the routine from memory, probably after seeing his kid practicing one too many times. Selzeer didn't waste time and took out her phone to record the hilarious scene, as the rest of the people in the stands cheered for the young dad.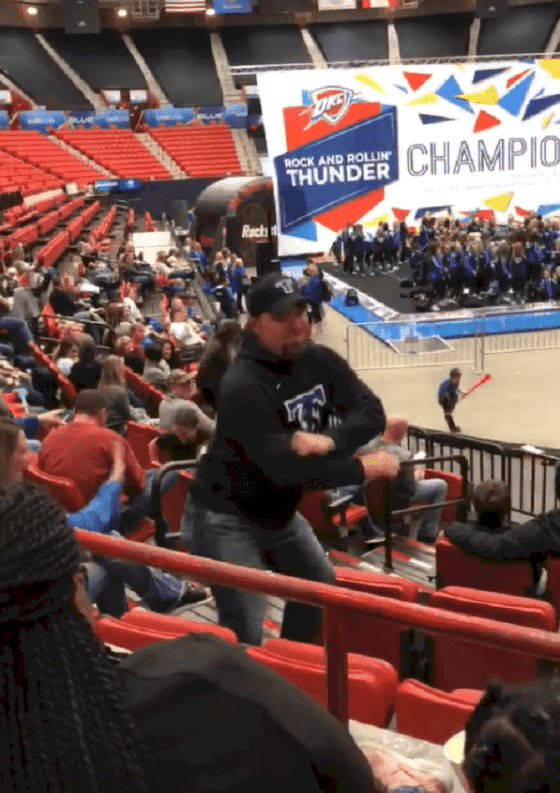 She later shared the video to Facebook, where it has earned over 1.7 million views, 2.3k comments, and 26k shares.
PEOPLE'S REACTIONS
In the almost two-minute long clip, the hilarious dad moves his hips and arms to the music, turning around to see the girls and then turning once again to face his crowd, making sure from time to time that's he's going along to the dance team on the stage. He keeps a straight face through it all, even when he's about to turn around to twerk for the public.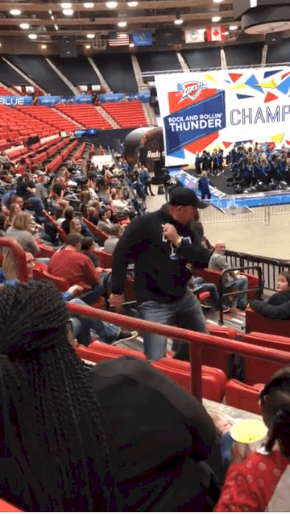 "One of the dads at the competition decided to dance with the girls," Maecie captioned her Facebook video.
People from all across the country have been commenting, praising the dad for his lack of stage fright and tagging friends that would probably give the dad in the video a run for his money.
"That's a good dad obviously not missing one practice and actually watching his kid at them instead of playing on his phone," wrote one user. And another added, "lmao! That's great! Wish my man would dance with me like that!"
Seeing dads take one for the team supporting their daughters is not rare these days. It seems like men are finally stepping out of the notion of masculinity that society has managed for many years and that shamed dads for letting their girls paint their nails, do their makeup or even dance ballet with them.
DAD PUTS ON TUTU TO SURPRISE HIS DAUGHTER
Another excellent example of an amazing dad is Thanh Tran, who put a tutu and stepped into his stepdaughter's ballet dance class to substitute his wife, who was heavily pregnant for the occasion.
"I knew it would bring a lot of joy to my daughter," Tran told People of his 8-year-old girl, Adriana Cross. "Seeing her big smile when I walked in was all worth it."
Wearing a black top and a fluffy black tutu, Tran showed some impressive moves at the barre following the teacher's instructions alongside Adriana.
"Dad life 101, you participate in every parent night no matter what it is. Even if it calls for tutu for ballet night," he captioned an Instagram post with photos from the evening, and concluded, "Not gonna lie, my calves and toes were cramping up."