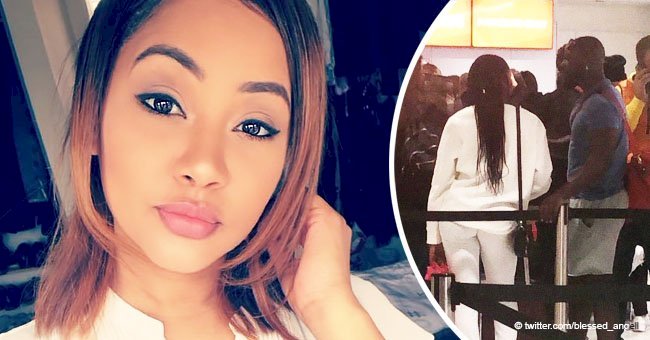 Woman catches thieving ex-boyfriend with new girlfriend at airport and gets payback
A Nigerian man stole his date's bank account details and took over £1200 of her money to treat his actual girlfriend to several luxurious gifts. But the man was not sly enough and was discovered. The story, shared on Twitter by the victim, Angel Exford, went viral almost instantly.
Angel Exford, a South African woman, living in the UK, had the sweet taste of revenge on her cunning ex-boyfriend after she discovered his fraudulent ways.
The young woman took to Twitter to share the story with every single detail, providing receipts, screen captures of text messages and more. Her thread has earned over 12k retweets, and her ex-boyfriend got the nickname "fraudbae."
THE START OF THE FRAUD
Exford by started by recounting she had dated Michael Fehsenfeld for almost two months. They got along together pretty well, and she didn't have reasons not to trust him. So, on a date night out to a club, Fehsenfeld told Exford he had lost his wallet, and asked her to pay the bill.
She accepted because he said he would return the money later, and she even gave him her card so he could pay. That was the last night Angel saw him. Thinking in retrospective, she realized that was the night he got her card's details, but that comes next.
After that night, things went down south quickly, and they ended up the relationship with him blocking Angel from all social media and changed his profile picture to one with another woman, his real girlfriend.
THE STRANGE BANK TRANSACTIONS
A month later, Angel realized there were some strange transactions on her bank account, including airplane tickets to Paris plus a hotel room, booked visits to the Louvre and other tourist attractions and even some flower bouquets.
With the help of her friends, Angel discovered that Michael was the scammer, but instead of confronting him, she decided to play smart. Exford made a recompilation of proofs and took her investigation to the police, who were impressed by her work.
On the day of his flight to Paris, police were ready to arrest him at customs.
"Michael Fehsenfeld was arrested at Gatwick on the 5th Oct. He thought he was slick, changed his flight to a later one but we clocked & updated the police who were waiting in departures," Exford wrote on Twitter.
THE OUTCOME
The man was jailed for 24 hours and confessed to his crime. Got a 26-week sentence suspended for two years, as well as 150 hours of supervised community service.
But despite being exposed as a fraud on social media, Fehsenfeld remained unbothered. Instead of showing remorse, the man saw his time in the spotlight as an opportunity and released a song mocking the entire story; it was titled "Fraudbae."
MAN SPOTS CHEATING WIFE ON GOOGLE MAPS
While Fehsenfled and Exford's story is unique because of the way the woman decided to handle the situation, here's another story that found its way to the news because of its improbability.
According to reports, a man was exploring Google Maps street view searching for a location to take his wife on a vacation trip when he stumbled upon something incredible.
While navigating through the Bridge of Sighs in Barranco, Peru, the man saw his cheating wife sitting on a bench with the head of another man resting on her lap.
However, Google Maps always blurs out the faces of those caught by their cameras. But the man knows his wife from head to toe, and he recognized her clothes and physical attributed immediately.
The photo was taken in 2013, but the after being confronted by her husband, the woman admitted her betrayal.
He asked for the divorce.
Please fill in your e-mail so we can share with you our top stories!