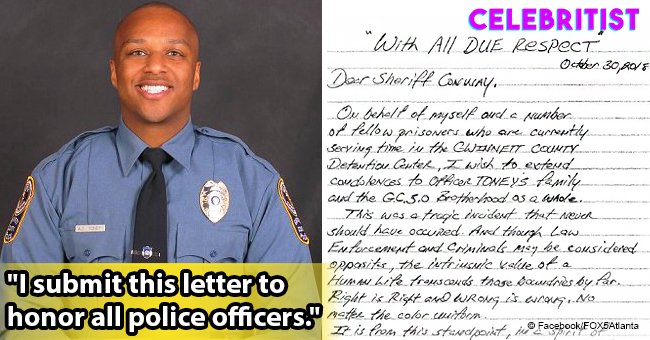 Inmates' heartfelt condolence letter went viral in 2018 after the death of slain officer

Officer Antwan Toney from the Gwinnett community was killed in the line of duty in early November 2018. Several people mourned his death, including some inmates from the county's detention center.
While most people think that inmates don't appreciate police officers, the group of 20 unnamed people who got together to show their condolences in a touching letter after Toney's death prove them wrong.
Titled "With All Due Respect," the author offered up his gratitude to the law enforcement team – especially to Toney – on his behalf and "a number of fellow prisoners who are currently serving time."
One of the things they wrote is that the "intrinsic value" of human life was bigger than being a police officer or an inmate. "Right is right and wrong is wrong. No matter the color uniform."
SHARING THEIR CONDOLENCES
"It is from this standpoint, in a spirit of gratitude and utmost respect that I submit this letter to honor all police officers, military personnel [sic] and first responders. Your service and sacrifice make the world a better place for all… THANK YOU," added the prisoner.
Finally, they wrote that the letter was a tribute to officers' courage and dedication, hoping that it could serve to bring healing, restoration, and forgiveness to the lives of all affected by Toney's passing.
Soon after receiving the letter, the Gwinnett police department posted it on Facebook to highlight the surprising and touching gesture "from the most unlikely group of citizens."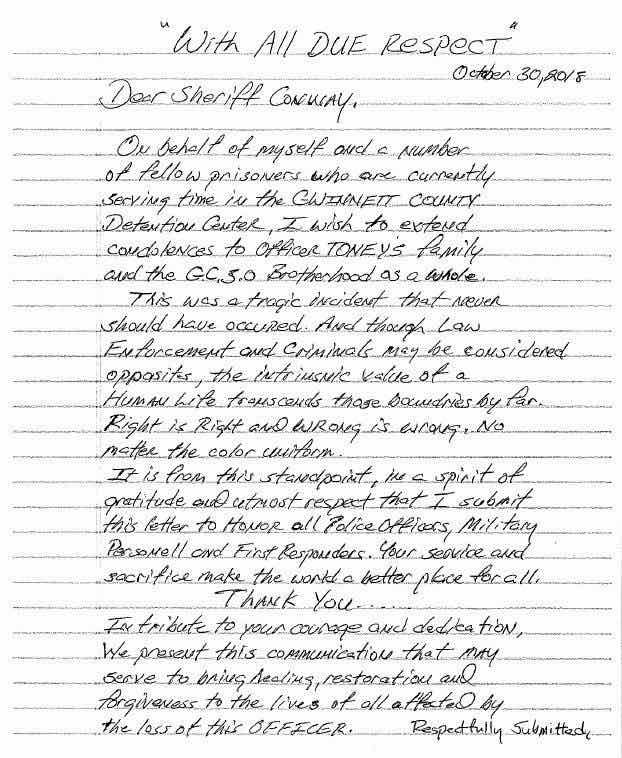 Source: Facebook/Gwinnett County Sheriff's Office
EXERCISING HIS RIGHT TO VOTE
Those prisoners are not the only ones becoming a viral sensation. Anthony Hinton, who lost almost 30 years of his life serving time on death row for a crime he didn't commit, attracted the country's attention after a photo of him with a voter's sticker on his head hit the internet.
Ballistics tests set clear that he was not guilty of the crime he allegedly committed in 1985. Soon after being released, it was time for him to exercise his right to vote, a privilege he lost while being in prison.
Hinton was the first in line at the midterm election polls, arriving even before the doors opened. When he finished, he took a photo smiling and wearing a voter's sticker on his forehead, which Equal Justice Initiative tweeted and made viral. In the caption, they wrote:
"For 30 years, Mr. Hinton was stripped of all his rights while he sat on Alabama death row for a crime he didn't commit. Today, he arrived at the polls at 7am and exercised his right to vote."
Please fill in your e-mail so we can share with you our top stories!