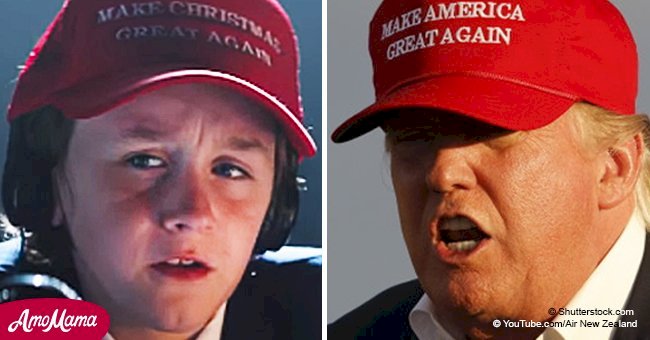 Air New Zealand trolls Donald Trump with a harmless joke
Christmas advertisements usually feature Santa Claus, elves, reindeer, and gifts. The new Air New Zealand commercial has all of these factors but decides to put a twist on the classic question of who is naughty and who is nice.
The advertisement starts with Santa Claus needing to make the deadline for sending his annual naughty list to his elves, presumably so that they can know how many presents to make.
However, Santa accidentally sends the list to a child in New Zealand who is horrified to find out that he and his friends are all on the naughty list. They start planning how they can get themselves and other children moved to the nice list.
Read more on our Twitter account @amomama_usa.
GATHERING FOR GOOD
The children organize a summit where naughty children from all over the world will gather in New Zealand to discuss what their country will do to be nicer. Air New Zealand staff are seen helping with the travel plans.
The advertisement features child representatives from various countries; including Japan, the United Kingdom, and Argentina although the most eye-catching of them all is the child who is representing the USA.
This character has been interpreted by many as being a caricature of President Donald Trump, because he is blond, wearing a red tie, and most noticeably of all; sporting a red peak cap that says "Make Christmas Great Again."

YouTube/Air New Zealand
This played on Trump's presidential campaign when he gave supporters similar hats that said "Make America Great Again" on them. He also claims to be the nicest child he knows, which imitates Trump's speech style.
CHRISTMAS COMMERCIALS
Air New Zealand's commercial comes just in time for the Christmas advertisement season, with many stores, products, and service providers already have put out their television spots.
One of the most talked about Christmas commercials this year is for the UK department store John Lewis. The advertisement tracks Elton John's career backward, from current times back to when he first started playing music.
In the commercial, all the different highlights and phases in his musical career are visible until the heartwarming ending when a young Elton receives his first piano as a Christmas present. His hit single "Your Song" is used throughout the advertisement.
Please fill in your e-mail so we can share with you our top stories!