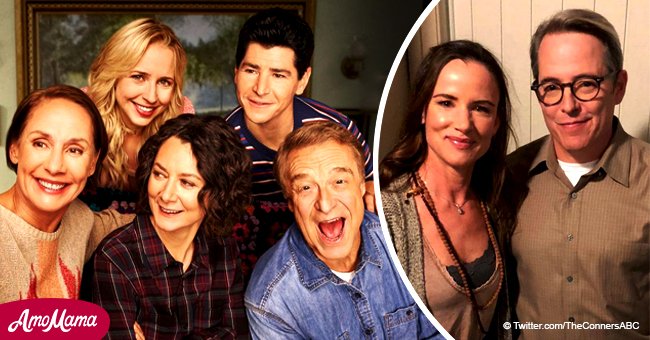 'The Conners' announces comeback of Matthew Broderick, and fans can't hide their excitement
"The Conners" fans are thrilled with the latest actor to make a comeback to the show. The "Roseanne" spin-off revealed on Sunday that Matthew Broderick would be making a guest appearance.
However, their Twitter post on the official account for the show also revealed another actress who is guest starring.
Matthew Broderick and Juliette Lewis are set to return to "The Conners" this season. The two actors will debut their new roles on Tuesday.
The episode will be titled "Hold The Salt." On the series, Lewis plays the role of Blue who is David's (played by Johnny Galecki), new girlfriend.
For more on this story go to our Twitter account @amomama_usa. Broderick will act as Peter, Jackie Harris' (Laurie Metcalf) new boyfriend.
The two stars were announced through an image of them posted on Twitter. In the photo, the pair is seen standing together and smiling outside of Metcalf's dressing room.
The episode they'll star in will feature Dan Conner (John Goodman) questioning Peter's motives when he learns about the costly Christmas gift that Harris purchased for him. Peter stars as her new, unemployed boyfriend.

Source: Twitter/The Conners
Many "The Conners" fans were very excited about the guest stars returning. One Twitter user posted,
"I [love] the show! I missed [Juliette Lewis] and she looks amazing and who doesn't love some Matthew Broderick."

Source: Twitter/The Conners
In October, Lewis tweeted about the show to promote an episode she guest starred in. At the time, she wrote:
"Hey who's watching [The Conners] TONIGHT?! 8/7pm c [central time]. I'm in it! I love this show- the writing, the brilliant actors, the humor! So happy to be a part of it. Hope you enjoy it as much as I do!"

Source: Twitter/The Conners
"The Conners" is a show that was born out the now-canceled "Roseanne." It came about after the main star Roseanne Barr was fired for a controversial tweet.
The network then agreed with Barr to pull her off the new spin-off. "The Conners" has consistently remained one of the top comedies on TV each week.
It currently has a 92 percent Fresh score on Rotten Tomatoes. Critics Consensus wrote:
"The Conners offers the comforts of its source show, but more focus on the family's ever-evolving dynamics adds a welcome layer of working-class empathy without losing any of the laughs."
Despite Barr's character being killed off in the new show, Dan, Barr's former onscreen-husband and her sister, Harris, have remained close. The two clashes once in a while but they enjoy being around each other and act like family.
Viewers can see their comedic relationship by tuning in on ABC this Tuesday.
Please fill in your e-mail so we can share with you our top stories!