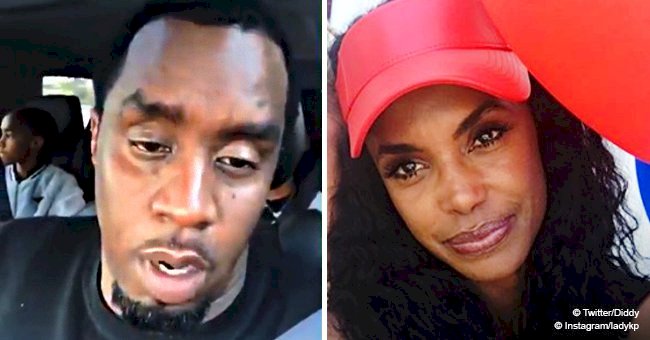 Diddy shares video of him taking twin daughters to school for the 1st time since Kim Porter's death

Diddy's daughters lost their mom Kim less than a month ago. Now the rapper is attempting to bridge the gap for D'Lila Star and Jessie James by even driving them to their first day back at school.
Kim Porter tragically passed away on Nov. 15 at the age of 46. She is remembered by her large family including her twin daughters 11-year-old twins D'Lila Star and Jessie James.
Porter shared her twin daughters with Diddy. After her death, Diddy is trying to fill both his and Porter's shoes.
He started by driving his daughters to school on December 3. In a series of Instagram videos, Diddy documented their first day back to school since their mother's death.
The first video was captioned "DAY 1 Today the journey begins. Thank you for all of your prayers and support. I'm now part of the six a.m. crew. This is mommy slash daddy, daddy slash mommy checking in."
Diddy is taking on the roles of both mother and father for their children. In the video, he continued to talk about the difficulties of being a single parent.
"This daddy mommy thing is beautiful," he continued. "I love it. You just have to get up early in the morning, like real early, like early. You all hearing me say daddy slash mommy, all my single mothers they know what that is, even single fathers. Gotta step up and play both roles, the mothers do it all the time. Shoutout. New day. New life new RESPONSIBILITIES. KIM I GOT THIS. Just like you taught me! I was trained by the best. #kimporter." wrote Diddy in the same post.
Kim had died last month in her home in California. A family member had called 911 after finding Kim Porter on the floor of her home unresponsive on November 15, 2018.
The Los Angeles County Sheriff's Office had responded to a death investigation in Toluca Lake at 11:40 am. They pronounced forty-seven-year-old model and actress, Kim Porter dead on the scene.
The cause of death was unknown. Her memorial service was held at Cascade Hills Church where she was buried in a gold casket at the Evergreen Memorial Gardens cemetery alongside her grandmother and mother.
The ceremony was attended by approximately 1,200 to 1,500 people. The attendees included many celebrities.
The celebrity list included Nene Leakes, Kandi Burruss, Lil Kim, Toya Wright, Mary J. Blige, Kimora Lee Simmons, Stevie J, and Faith Evans. Evans also sang at the funeral.
Diddy, Porter's ex-boyfriend who she dated off-and-on for 13 years, gave an 18-minute long eulogy. Before the funeral, he posted a message on Twitter to thank everyone for their prayers and support.
The Porter, Goodwin, and Combs families also sent a public statement to The Associated Press on Friday saying, "God broke the mold when he made Kim, there was truly no other woman like her. Although her time here on earth was far too short, she lived a life full of purpose and meaning. She was a loving mother and devoted friend. She was the epitome of kindness and grace. There wasn't a person she met who's (whose) soul she did not touch. Kim was the type of woman who changed lives for the better," they said. "She will be forever remembered and missed by so many. As her family, we promise to honor her every day of our lives. We love you always."
Please fill in your e-mail so we can share with you our top stories!