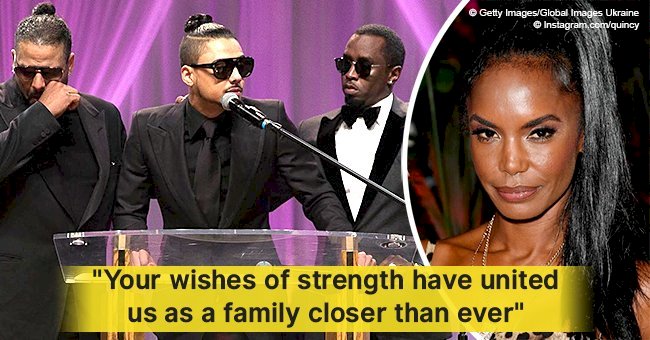 Kim Porter's son, Quincy Brown, thanks everyone for their support after his mother's death in post
Model, Kim Porter's 27-year-old son, Quincy Brown, thanked family and friends for their support in an Instagram post.
Social media has been inundated with tributes and messages for Kim Porter. Everyone from Sean "Diddy" Combs to Beyoncé have sent messages to Porter's family after her sudden death on November, 15 at the age of 47.
Her 27-year-old son, Quincy Brown, thanked family and friends for their support. He took to Instagram to post a photo of him standing in between his father, producer Al B. Sure!, and Porter's ex-boyfriend Combs at his mother's funeral held last Saturday in her hometown of Columbus, Georgia on Instagram.
"To my family, friends, Qrew, entertainment colleagues and all of my family's supporters… Thank you for your endless love, condolences, best wishes and positive energy through the toughest heartbreak I will ever encounter. Please know that your wishes of strength have united us as a family closer than ever. Heaven has gained a special angel to look over ALL of us. From the bottom of my heart….Thank Y'all ♥️Quincy," wrote Brown.
Kim Porter's memorial service was held at Cascade Hills Church. She was buried in a gold casket at the Evergreen Memorial Gardens cemetery alongside her grandmother and mother.
The ceremony was attended by approximately 1,200 to 1,500 people. The attendees included many celebrities.
Porter was found dead in her Los Angeles home on November 15, 2018. She had been suffering from flu-like symptoms for several weeks but her cause of death is currently unknown. She was 47 years old at the time of her death.
The celebrity list included Nene Leakes, Kandi Burruss, Lil Kim, Toya Wright, Mary J. Blige, Kimora Lee Simmons, Stevie J, and Faith Evans. Evans also sang at the funeral.
Sean "Diddy" Combs, Porter's ex-boyfriend who she dated off-and-on for 13 years, gave an 18-minute long eulogy. Before the funeral, he posted a message on Twitter to thank everyone for their prayers and support.
The Porter, Goodwin, and Combs families also sent a public statement to The Associated Press on Friday. They said:
"God broke the mold when he made Kim, there was truly no other woman like her. Although her time here on earth was far too short, she lived a life full of purpose and meaning. She was a loving mother and devoted friend. She was the epitome of kindness and grace. There wasn't a person she met who's (whose) soul she did not touch. Kim was the type of woman who changed lives for the better," they said. "She will be forever remembered and missed by so many. As her family, we promise to honor her every day of our lives. We love you always."
Sean Combs and Porter began dating in the '90s. They had their children throughout their on-and-off-again relationship.
Combs and Porter broke up in 1999 and battled in court over child support for Christian; Combs also dated Jennifer Lopez for two years before he and Porter reconciled in 2003. They split for the final time in 2007.
Though they never-married Combs gave his children's mothers most of the credit, though. "I've been truly blessed to have some great, incredible relationships that have afforded me these children by these very strong, intelligent, beautiful black women," he said of his exes. "The mothers of my children [are] my best friends. My hat goes off to them."
Porter will be remembered by her four children, Quincy Brown, Christian, 20, and 11-year-old twin girls D'Lila Star and Jessie James.
Please fill in your e-mail so we can share with you our top stories!