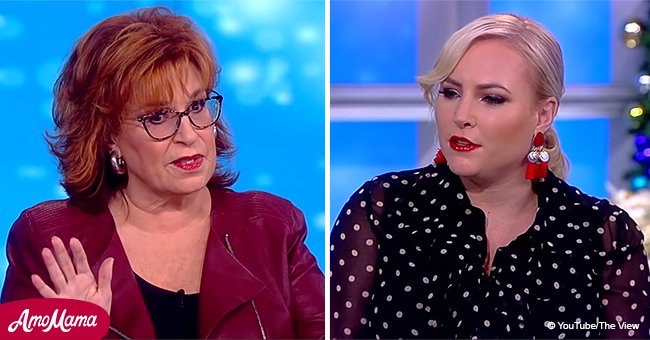 Meghan McCain brutally interrupts Joy Behar during her comparison of Trump and the late Bush
Joy Behar and Meghan McCain went head-to-head during a live George H. W. Bush tribute that quickly went from emotional to political and heated.
During Mondays' episode, December 3, 2018, the five "The View" co-hosts were talking about the 41st President and remembering his greatest feats when the discussion broke out.
As it can be seen in the video uploaded to Youtube, McCain rudely interrupted Behar while she was making a comparison between Bush and Trump's presidency.
Follow us on our Twitter account @amomama_usa to learn more.
Whoopi Goldberg and Abby Hunstman focused on the person that Bush was, how he was remembered as a kind, gentle and even funny man, even while he was still in Office.
Goldberg also reminded everyone that he used to handle the media quite well, even though they used to give him a hard time, just like they do to every President around the world.
HOW BUSH HANDLED THE PRESS AND HIS MARRIAGE
According to Hunstman, his ability to deal with the press was deeply connected to his respect for them and his acknowledgment that being a reporter is not an easy job.
As for McCain, who had previously listed all of Bush's accolades, the most amazing part of him was his relationship with former First Lady of the United States Barbara Bush, with whom he was married for 73 years.
BEHAR'S ATTACK ON TRUMP
Behar agreed that Bush was a remarkable man, but she also pointed out the fact that, as President, he was the one who signed into law the Clean Air Act Amendment of 1990.
This was where the conversation went sour, because Behar, a Democrat, pointed out that Donald Trump was trying to 'unravel everything that [Bush] did and [President] Obama did.'
McCain interrupted her, saying that they should focus on Bush instead of talking about Trump. When Behar kept exposing her case, McCain, a Republican, rudely said that she wasn't interested in hearing it, which led Behar to reply: 'I don't care what you're interested in. I'm talking!'
THE BEHAR-KID ROCK FEUD
In order to resolve the dispute, Goldberg instructed the cameras to turn to a commercial break, ending the heated discussion. But his wasn't the first time that Behar was on the news this week due to an exchange of words.
After being called the b-word by Kid Rock during a live segment on "Fox & Friends," Behar responded by challenging the singer to appear on "The View," with Sunny Hostin warning him that by coming for Behar, he was coming for all of them.
Please fill in your e-mail so we can share with you our top stories!