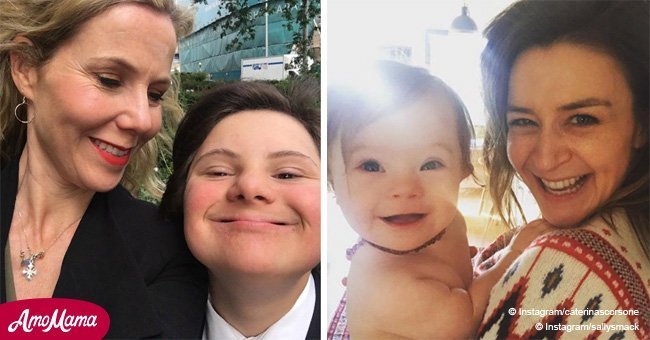 Seven Celebrity Moms Who Have Children with Down Syndrome
For these 7 celebrity mothers, they have all the reasons to be proud of their children who have Down syndrome.
Having thousands or even millions of followers, these mothers set a good example of unconditional love. Their simple posts about their children with Down syndrome send a powerful message of acceptance amid differences.
Here are just a few celebrity mothers who love showing the world how beautiful life can be around someone with Down syndrome.
1. Maria Doyle Kennedy
Best known for "The Tudors," the Irish actress never kept it a secret that she has a son, now an adult, with Down syndrome.
Daniel, his son, even appeared in the short film she directed titled "A Different Kind of Day."
2. Julie Newmar
Julie, who shot to fame as Cat Woman during the 60s TV show "Batman," has a son named John who was also born with Down syndrome.
"He's the cause of the great expansion of my outlook on life," the actress said in an interview. "He's responsible for my understanding and practice of unconditional love. John is what makes my life great."
3. Lisa Gungor
Lisa, of the band Gungor, and her husband Michael Gungor love their daughter, Lucette, who has Down syndrome, unconditionally that they wrote a song for her titled Light.
4. Joey Feek
The country singer lost her battle to cancer in 2016. But she was lucky to have given birth to her daughter, Indiana, two years earlier.
She shares Indiana, who was born with Down syndrome, with husband and fellow country musician, Rory Feek.
5. Amanda Booth
With a son who has Down syndrome, Amanda is a staunch advocate for the welfare of people born with this condition.
Amanda does her advocacy partly by sharing her happy moments with her son, Micah, on social media.
6. Caterina Scorsone
Caterina's daughter, Paloma, has Down syndrome. The actress frequently shares photos of her little girl on her Instagram, showing the world just how proud and loving a mother she is.
"Beauty. Love. Peace. Contentment. Acceptance. Belonging. Freedom. Adventure. Blessings beyond my wildest dreams," Caterina wrote in one of her posts.
7. Sally Phillips
Ollie, Sally's son, was born with Down syndrome. This doesn't diminish her love for him. The actress also advocates for the well-being of people having this condition.
In 2016, she made a documentary titled "A World Without Down Syndrome?"
One in every 700 babies in the United States is born with Down syndrome, according to the Centers for Disease Control and Prevention.
Please fill in your e-mail so we can share with you our top stories!