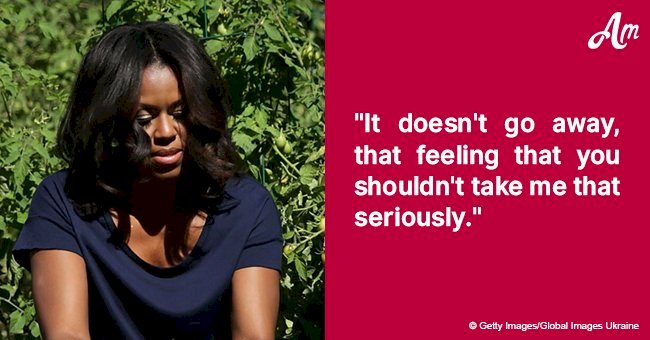 Michelle Obama reveals she still has impostor syndrome and 'it never goes away'

In front of an audience of hundreds of students, Michelle Obama said that she still sometimes feels like a fraud.
On Monday evening Michelle Obama spoke to 300 students at Elizabeth Garrett Anderson School in Islington as part of the promotional tour for her memoir, 'Becoming.'
The former First Lady first visited the school nine years ago, only months after her husband became president. During her visit to the school Michelle got asked how she felt about being seen as a 'symbol of hope,' to which she replied:
"I still have a little bit of impostor syndrome, it never goes away, that you're actually listening to me."
Read more on our Twitter account @amomama_usa.
Michelle explained her statement as she continued:
"It doesn't go away, that feeling that you shouldn't take me that seriously. What do I know? I share that with you because we all have doubts in our abilities, about our power and what that power is. If I'm giving people hope, then that is a responsibility, so I have to make sure that I am accountable."
In her memoir, 'Becoming,' Michelle Obama spoke of the first time she visited the Elizabeth Garrett Anderson School in 2009 during the G20 summit. At the time 900 refugee pupils attended the school and had a student body where 55 languages were spoken.
Recollecting that time in her memoir Michelle said:
"Looking at the girls, I just began to talk, explaining that though I had come from far away … I was more like them than they knew."
Since the release of her memoir on November 13, 2018, the sales hit the publisher Barnes & Noble by storm. 'Becoming' rose to the No. 1 selling adult nonfiction title in different countries like Germany, France, Spain, Holland, Denmark, United Kingdom, and Finland within a week of being published after having sold over 1.4 million copies.
The publishing house claims Michelle's memoir to be the best and fastest selling book of the year, with one of the fastest sellers in Barnes & Noble history.
The term 'Inposter syndrome' refers to feelings of self-doubt and insecurity, even though there is no evidence to support such a belief.
Please fill in your e-mail so we can share with you our top stories!