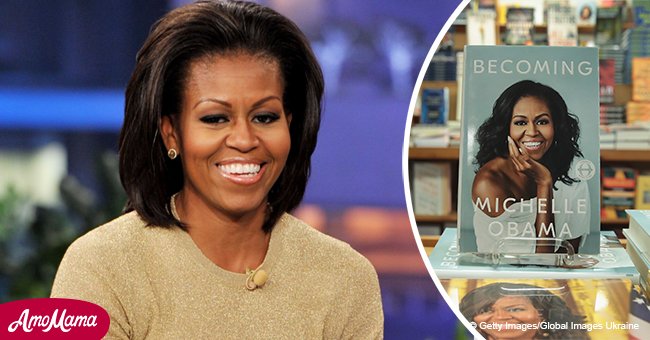 Michelle Obama sells 1.4 million books in a week, exceeding previous memoirs by First Ladies
Former First Lady Michelle Obama's newly-released memoir, "Becoming," has been slaying other memoirs written by previous First Ladies before her by selling over 1.4 million copies in one week.
As of November 21, 2018, Crown Publishing informed the Associated Press that Obama had sold an astonishing amount of copies of her book in all formats across the United States and Canada in seven days since it was publicly released on November 13, 2018.
The publisher reported printed 3 million hardcover copies in North America based on demands.
According to the publishing house, "Becoming" is the current No. 1 adult nonfiction title in the United Kingdom, Germany, France, Holland, Spain, Denmark, and Finland.
Follow us on Twitter at AmoMama USA for more details and updates.
In Germany, about 200,000 copies were sold, which paved the way for printing the second batch of 100,000 copies. As for the United Kingdom, Viking publishes the memoir and they have printed 575,000 in total.
The past memoirs written by other former First Ladies had substantial sales, but not as high as Obama's memoir's sales. Hillary Clinton published her memoir, "Living History," in 2003 and it sold only 600,000 copies in its first week.
As for the contents of the book, Obama mentioned President Donald Trump and slammed him for his birther conspiracy claims targeted at her husband, former President Barack Obama.
She also opened up about a tough subject for her, which was infertility and miscarriage. Obama revealed how she and Barack had a tough time conceiving during the early years of their marriage. When she was finally pregnant, they were devastated when she suffered from a miscarriage weeks later.
Book analysts and critics have been saying positive things about "Becoming." The Washington Post praised its "impressive balance in telling the truth of her challenges while repeatedly acknowledging her lucky life."
Meanwhile, Barnes & Noble previously revealed that the book sold 725,000 copies on its first day alone. They claimed that the memoir is the fastest-selling book of the year.
Senior director of merchandising at Barnes & Noble Liz Harwell spoke with the Washington Post, and she said, "We knew 'Becoming' was going to be one of the biggest books of the year, but it has now officially had the best first week of sales of any book in 2018 and is among the fastest sellers in Barnes & Noble history."
Please fill in your e-mail so we can share with you our top stories!